Written by
Goyal Divya
| New Delhi |
Published: November 28, 2013 11:27:06 am
Bollywood superstar Aamir Khan,who is known to be a perfectionist,has done it again and this time it is to get the right look for his action flick 'Dhoom: 3'.
Aamir Khan has not only trained hard for the perfect chiseled abs but also went through rigorous hair styling schedule to bring alive his character Sahir on screen.
Much like the time in 'Gajhini','Taare Zameen Pe' and other films,Aamir Khan went down to the last detail to ensure that his character was unique and different form the rest of the cast.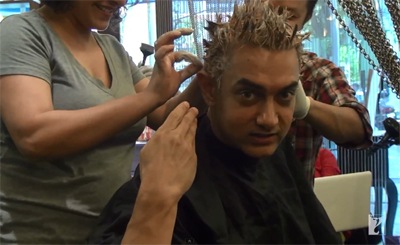 Aamir Khan,who is known to leave no stone unturned for a perfect look for his films,had to undergo a series of looks including blonde and brunette.
Renowned hair stylist Avan Contractor was hired to crack Aamir Khan's final hairstyle in 'Dhoom: 3'. Avan Contractor was responsible for giving Aamir Khan a fresh,preppy look in the movie 'Dil Chahta Hai'.
In the video posted by the film's official Twitter handle,Aamir Khan had almost given a go ahead to the blonde look and even tried to convince the stylist on the same. But we tend to disagree,the look doesn't suit Aamir Khan.
Although Saif Ali Khan did manage to pull off that hairstyle in his home production 'Go Goa Gone' where he essayed the role of a Russian Zombie hunter!
Many other colours and style variations were experimented on Aamir Khan for the perfect look for Sahir the clown and penultimate thief! The stylists also experimented with hair extensions and simple hair streaks.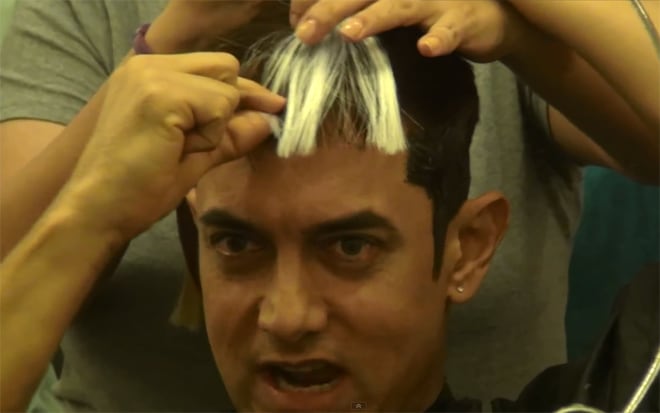 However,they settled on the natural hair colour adding a hat to his look. And here we agree that is indeed one of Aamir Khan's best look.
Also starring Katrina Kaif,Abhishek Bachchan,Jackie Shroff and Uday chopra,'Dhoom: 3′ is all set to hit the threatres on December 20.
Watch Aamir get the 'Dhoom: 3' look here:
For all the latest Entertainment News, download Indian Express App