After the mellow tunes of Ishq Wala Love, 'Students of the Year' Varun Dhawan and Alia Bhatt go all party-grunge in the first released song of their forthcoming film, Humpty Sharma Ki Dulhaniya.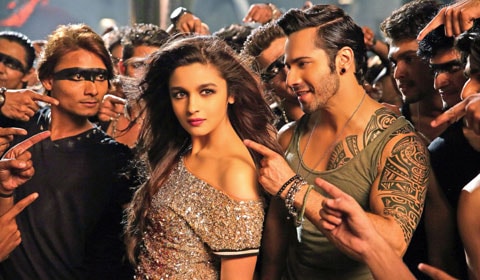 The Indian Express got a sneak peek of the song which hits the screens tomorrow and has come back singing it on loop. Titled 'Saturday Saturday' the song is sure to be the next big party number after Ragini MMS 2's Babydoll. Composers Sharib and Toshi have recreated the original Indeep Bakshi song for the film.
Singers Akriti Kakkar, Bakshi and Badshah do full justice to the Punjabi beats. Kumaar's lyrics nonchalantly traverse the terrain of naughty colloquialism. Sample some of the risqué expressions: 'Sarojini ke kapde pehan kar jaati Madame disco.. VIP mein complimentary mein shots bhi de do isko..' In case you want more: 'Audi mein tu jaati hai khisak.. suck.. suck.. suck.. Baby what the f***.'
The picturisation of the song is lavish true to Karan Johar's Dharma Productions standards. The party-grunge vibe is accentuated by Varun Dhawan's entry on a military tank which screams out 'His Highness The Humptyness'. Choreographer Ahmed Khan has got the best out of Varun.
The boy's energy is contagious. And can he dance or what? Alia Bhatt rocks in her four sensational costume changes. We are just six months into the year and this is already Alia's third release but Johar has presented his protégé in a complete new avatar from Highway and Two States. The chemistry between Varun and Alia is also to watch out for.
We'll be singing this song for many Saturdays.
"I look at what I write so that I can see what I think."— W.H. Auden
For all the latest Entertainment News, download Indian Express App