Former adult film star turned Bollywood actress Sunny Leone is upset over alleged 'strip act' recently for a diamond merchant trader in Mumbai.
Sunny Loeone took to twitter to express her displeasure on the reports published on leading websites. Sunny Leone said, "April 18 was shooting @TinaNLolo and night was at @Mayyurrgirotra store launch, please do some fact checking before printing lies."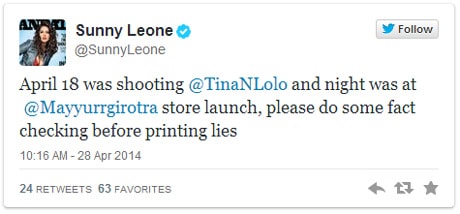 One of the fans also replied on the tweet, "Those pics r fake.all USD scattered on floor.for sure its not india. " to which Sunny replied, "Someone is using their brain!! Thanks for noticing."
Another fan suggested that the 'Ragini MMS 2' actress should 'sue them for defamation," to which she said, "That does not happen in India! If it were the US it would be a different story."
The social media was abuzz with pics of Sunny Leone's 'strip dance' at the private party.
Sunny Leone, who is basking in the success of 'Ragini MMS 2', recently returned from a trip to Nepal.
For all the latest Entertainment News, download Indian Express App