Indian artist Sudarsan Pattnaik has created sand sculptures of legendary movie director Satyajit Ray and a 6-foot-high Taj Mahal on the Cannes beach during the ongoing International Film Festival in France.
Patnaik created the sand sculpture to pay tribute to Ray at Beach Zamenhof in Cannes yesterday during the 67th Cannes Film festival.
The artist from Odisha was invited by the Indian Embassy of France for creating sand art during the festival. The event during which Patnaik created sand art was inaugurated by the Indian Ambassador in France.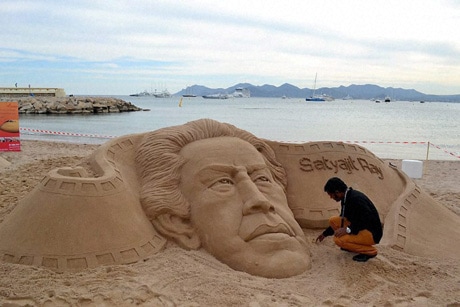 Many eminent personalities including movie maker Ramesh Sippy and actor Kamal Hasan were present.
Patnaik with the help of his student Bulu Mohanti created a long movie reel on the face of Satyajit Rai for which he used five tonnes of sand.
The Padmashri awardee also created a 6-foot-high Taj Mahal displaying the message of incredible India.
"I am very happy to come to Cannes for this festival. I have decided to give my tribute to legendary director Satyajit Ray," Patnaik said.
For all the latest Entertainment News, download Indian Express App