Sonu Nigam shaved off his head during a media interaction in Mumbai on Wednesday after a Muslim cleric announced a reward of Rs 10 lakh for anyone who will tonsure the singer. The call came after Sonu's Monday tweets on being woken up by morning azaan and calling it 'forced religiousness and gundagardi'. Sonu speaking to media said that he was not criticising any religion, instead he was raising a social topic about use of loudspeakers. "Azaan is important, not loudspeaker. Arti is important, not loudspeaker," the Bollywood singer said clearly and concisely while reaffirming his secular credentials. Moments later, he went and shaved off his hair.
"I'll shave my head in a while. It's not a challenge. It's a request. What are you doing in this country? I am a believer but I don't think my religion is the best but yours isn't. I don't believe in that. You have to fight fanaticism, you can't be quiet. I have requested Alim (celeb stylist Aalim Hakim) to come. He will shave my head but this isn't any agitation or challenge. The one who is cutting hair is a Muslim and I am a Hindu. There is no animosity. The same language of fatwa can be communicated in a language of love. Being secular means understanding each other's problems and not saying 'I am only right.'"
The cleric, Syed Sha Atef Ali Al Quaderi, was not satisfied though. Speaking to ANI, he said, "Sonu Nigam has not done all the things I asked for, two out of the three things remain unfulfilled. Will give reward of Rs 10 lakh, only when he does rest two-garland of old torn shoes and tour around the country." Quaderi had announced in an interview to DNA that he would give an award of Rs 10 lakh who could "shave his (Sonu Nigam) hair, put a garland of old torn shoes around his neck and tour him around the country."
Talking about his own tweet, Sonu said, "Everyone has right to his opinion and I only spoke about loudspeakers. I spoke about a social issue, not any religion. I said it for temples, gurudwaras and mosques, why is it so hard to comprehend?" Sonu asked the media.
See pictures of Sonu Nigam after he shaved off his hair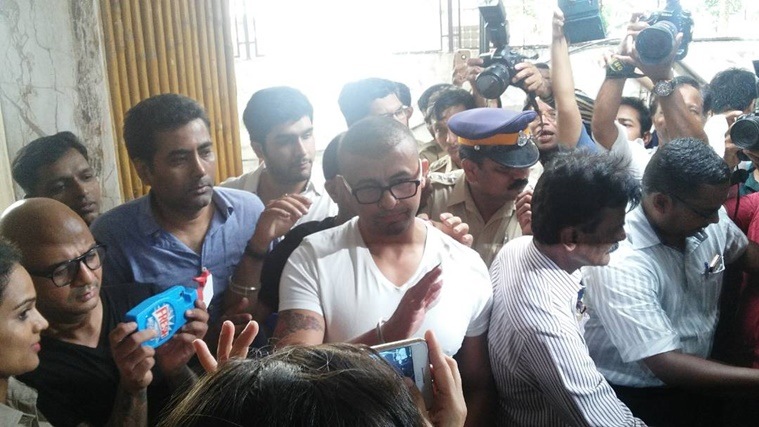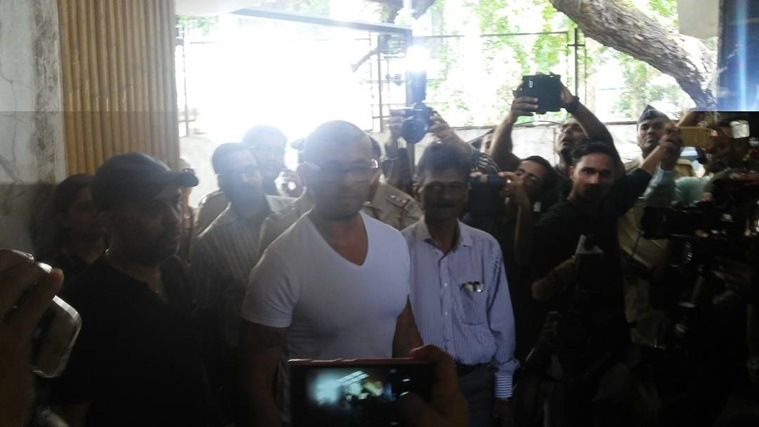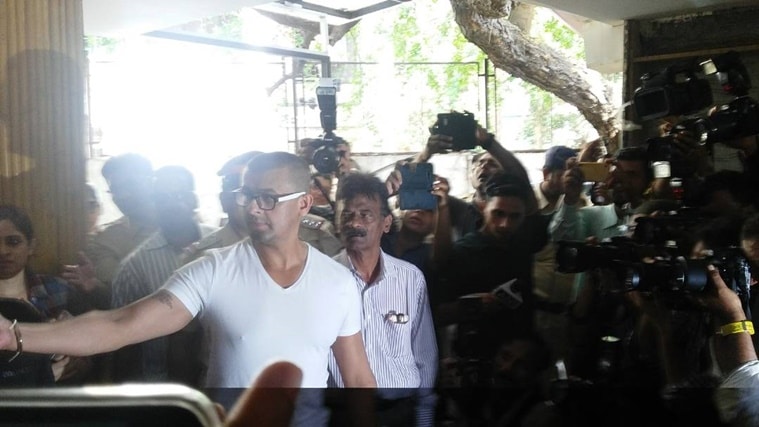 Talking about religion, the singer said, "I am very secular, I am not right or left wing. I stand in between. Most are right and left wing people but people in the middle are less. I've never had to make a speech like this. I just raised a social topic, not a religious topic. When loudspeakers are installed in religious places, it is sort of a declaration that 'this is my religion'. Same goes for people dancing on roads drunk during religious processions. I am against that."
Hitting out at religious fanatics who had questioned him for mentioning Prophet Mohammad in the tweet, he said, "People are asking why I said Mohammad and not Mohammad Sahab in my tweets. Well, I would like to explain that it is the problem of explaining myself in English language. In Hindi I will see Krishnaji or Shivji but while speaking in English it becomes Krishna or Shiva. It was the same when mentioning Mohammad. My intent was not to slam the prophet in any way."
Also read| Sonu Nigam azaan row: Sonu to get his head shaved to claim Rs 10 lakh reward from Muslim cleric
When questioned how he justifies performing in jaagrans that also use loudspeakers, Sonu said that those religious functions get over by 10 pm as per government regulation. "Yes, I sing at jaagrans but they are over by 10 pm as per government rules. It is all about timing and when I sing at religious events, I ensure rules are followed."
Here is what Sonu Nigam tweeted on Monday
God bless everyone. I'm not a Muslim and I have to be woken up by the Azaan in the morning. When will this forced religiousness end in India

— Sonu Nigam (@sonunigam) April 16, 2017
And by the way Mohammed did not have electricity when he made Islam.. Why do I have to have this cacophony after Edison?

— Sonu Nigam (@sonunigam) April 17, 2017
I don't believe in any temple or gurudwara using electricity To wake up people who don't follow the religion . Why then..? Honest? True?

— Sonu Nigam (@sonunigam) April 17, 2017
Gundagardi hai bus…

— Sonu Nigam (@sonunigam) April 17, 2017
Dear everyone. Your stand exposes your own IQ. I stand by my statement that loudspeakers should not be allowed in Mosques & Temples. Period

— Sonu Nigam (@sonunigam) April 18, 2017
Talking about how people took note of only one tweet, he said,  "My intention was not to hurt anybody's religious sentiments. Why will I every do that? The point was the nuicieance loudspeakers create. That is it. People took one tweet of mine where I mentioned 'gundagardi' and ignored other tweets where I also talked about temples and gurudwara."
The controversy started after Sonu took to Twitter on Monday to write, "God bless everyone. I'm not a Muslim and I have to be woken up by the Azaan in the morning. When will this forced religiousness end in India. And by the way Mohammed did not have electricity when he made Islam.. Why do I have to have this cacophony after Edison? I don't believe in any temple or gurudwara using electricity To wake up people who don't follow the religion . Why then..? Honest? True? Gundagardi hai bus…" 
For all the latest Entertainment News, download Indian Express App