Bollywood actress Shilpa Shetty celebrated her son Viaan Raj Kundra's second birthday with full pomp and show at her residence on Wednesday (May 21).
The actress celebrated Viaan's birthday 'Kundra Style' inspired by Korean rapper Psy's famous track 'Gangnam Style'.
Viaan's special birthday bash saw a host of celebrities along with their children.
Bollywood actor Vivek Obeori, who attended the party with his wife Priyanka and son Vivaan Veer, said that he loved birthday boy Viaan's dance on Gangnam Style!
@TheRajKundra @TheShilpaShetty it was awesome! Seeing the kids in that happy frenzy was divine! Loved @ViaanRajKundra 's gangnam style dance

— Vivek Oberoi (@vivek_oberoi) May 22, 2014
Sanjay Dutt's wife Maanyata, who is rarely seen at any parties nowadays, was spotted along with their twins Shahraan and Iqra Maanyata Dutt, who was diagnosed with a non-malignant tumour in her lungs and had to undergo surgery twice, looked better than when she was last seen in April.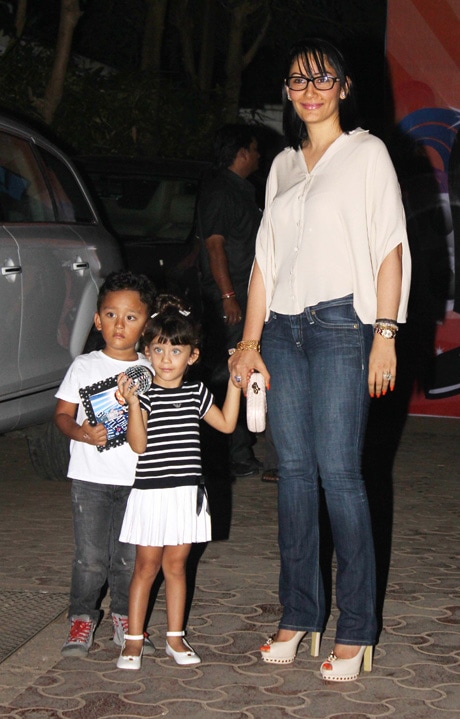 The mother-of-two, who had lost a lot of weight previously, seems to be slowly but surely recovering. Maanyata was dressed in a self-coloured blouse and jeans with heels. Little Shahraan and Iqra looked super-cute as they arrived at the Kundra residence all set to party. Celebrity photographer Dabboo Ratnani was also at the party with his kids Myrah, Kiara and Shivaan.
Super Party of Rockstar @ViaanRajKundra ! Thx @TheRajKundra @TheShilpaShetty ,Kids Had Gr8 Time @MyrahRatnani @KiaraRatnani @ShivaanRatnani

— DABBOO RATNANI (@DabbooRatnani) May 21, 2014
Actor Ayushman Khurrana, who recently welcomed a baby girl, was also one of the invitees. However, the 'Vicky Donor actor could not attend the bash.
"@ayushmannk: Happy bday @ViaanRajKundra! Missed your kundra style bash! Best wishes @TheShilpaShetty @TheRajKundra" thanks praaji

— Raj Kundra (@TheRajKundra) May 21, 2014
For all the latest Entertainment News, download Indian Express App