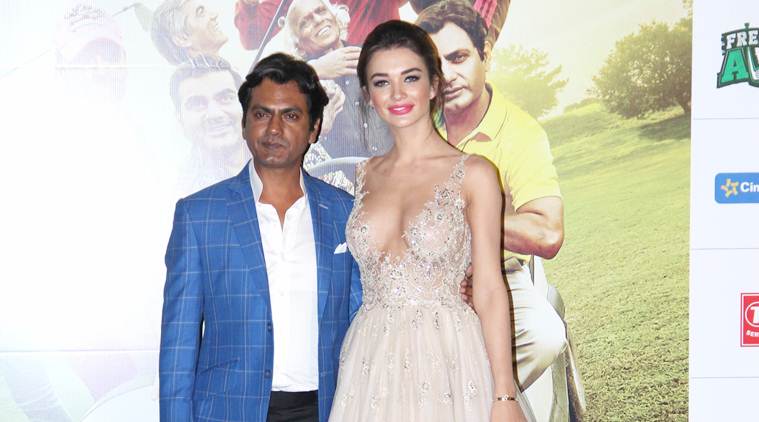 Freaky Ali's trailer and Nawazuddin Siddiqui's punchlines have created quite a buzz. In an exclusive conversation with indianexpress.com, the lead actors Nawaz and Amy spoke to us about the film, romancing each other among other things.
Did you refuse Salman Khan's offer to share a drink with him?
Nawaz: (Smiles) Yeah, we were shooting the next day and my face would have puffed up had I downed a few pegs.
Didn't Salman feel bad when you refused his offer?
Nawaz: I told him we will have a drink together when we aren't shooting.
Is it difficult switching over from a psychotic killer character of Raman Raghav to a fun role like Freaky Ali?
Nawaz: It's very difficult switching over from one character to another. Freaky Ali may look like an easy role to others but it is not easy. Behind every easy role, there is a lot of hard work that goes in.
Do you enjoy these commercial roles more?
Nawaz: For me as an actor, there is no commercial or independent or art cinema. For me, it's a character that is given by the director. And it is a task for me that I have to fulfill it to the best of my ability regardless of the kind of film that it is. You can see it as a different space but I as an actor see everything as one and the same.
Amy, after Rajinikanth and Akshay Kumar, does Freaky Ali mark your entrance into the Salman Khan camp?
Amy: After Freaky Ali. I like that. In this film, I got to work with all three Khan brothers at one go. Between Arbaaz acting, Sohail directing and Salman producing and with Nawaz acting, I couldn't have asked for anything better. I am very lucky in that sense.
So Dabangg 3 on cards?
Amy: Oh! Gossip. I would like to work with Salman in future. But for now, I am focusing on Freaky Ali.
How was it romancing Nawaz?
Amy: Very fun. He is my favourite romantic hero. He is very easy to work with and is great fun. We got along very well. I think he is one of the best performers in the country.
Nawaz, you felt the same about Amy?
Nawaz: Even I felt the same. It's very easy to work with her. You can enact any scene that you want with her with ease. The special thing about her is that she responds as an actor. That is the best quality of an actor to receive and respond.
Nawaz, just like Freaky Ali that tells the story of a man who breaks into a game which is seen an elite stronghold, your real life Bollywood story from a nobody to being a star followed a similar path. What do you have to say about this journey?
Nawaz: I don't see myself as a superstar. I am an actor. It's the filmmaking process that fascinates me a lot. Even in my theatre days, that was what excited me. I like to get involved in the process of filmmaking. That's where my boundary as an actor ends. I don't see beyond that in the sense that 'Oh I want to be a star.'
So you don't see yourself as having broken through the dominance of the Khans and Kapoor to reach a position in the industry?
Nawaz: I have just started. I don't see myself as having broken through any dominance here. For me, the fact that I am working is the most wonderful thing. I have work today because for 15 to 20 years I had no work. So I have understood that reality that when at a time I didn't have any work at all today I am working. The biggest fear of an actor is that he should have work and keep working regardless of whatever the medium is — street plays or theatre or films. I am an actor. I don't know anything else. I don't have any other option. I can do only acting in this world and I am trying to be an actor. And even a lifetime is at times not enough to become one fully.
Have you been completely accepted in Bollywood?
Absolutely. I have been completely accepted in Bollywood.
Salman rarely promotes a male talent. You seem to have formed a great bond with him. Is that because unlike others you don't indulge in sycophantic behaviour to please him?
Bhai is both an actor and superstar he truly appreciates good work. Not just mine but of others as well. Whenever I talk to him, he tells me about others actors and the films that he has liked. He has supported this film because of its good subject. And not because of me or Sohail. My bonding with Bhai happened a lot more during Bajrangi Bhaijaan. I got to learn a lot and understand him from close quarters. He is an extremely fun oriented person and it's fun working with him.
Amy, you have worked with the God of Indian cinema, Rajinikanth. Feel privileged?
Amy: It's a huge honour. I would say Nawaz is my lucky charm. Radhika Apte worked with Nawaz and then she shared screen space with Rajini sir in Kabaali. And now after Freaky Ali, I will have Rajini sir's release. (Nawaz cuts in) If you want to work with Rajini sir, you will have to work with Nawaz first (laughs).
Nawaz, finally tells us one freaky quality about all three Khans SRK, Salman, and Aamir?
Nawaz: I don't know about freaky but SRK bhai is humble. With Salman Bhai, it's complete fun shooting. We never wanted the shoot to end. And Aamir bhai, everyone knows he is the perfectionist.