Bollywood queen Aishwarya Rai Bachchan has been a regular face at the prestigious Cannes Film Festival for the past thirteen years.
The former beauty queen who was appointed as the brand ambassador of L'Oreal in 2003 joined the likes of Eva Longoria, Andie MacDowell and Penelope Cruz in representing the international cosmetic company.
Apart from enjoying the title of being the first Indian actress to walk the Cannes red carpet, there has been a keen eye on Aishwarya Rai's appearances at Cannes over the years. The actress has got both positive reviews and received flak for her not-so-great choices.
While, it still remains to be seen what Aishwarya Rai will don at the 67th Cannes film Festival this year, we look through some of her past fashion picks.
For her debut appearance at Cannes back in 2002, Aishwarya Rai Bachchan shimmered and shone in a stunning gold Neeta Lulla sari with rich gold jewellery.  However, the following year was a huge fashion miss for Aishwarya. She donned a leaf-green sari, again by Neeta Lulla with a strappy printed blouse. A severe hairdo and inappropriate jewellery did little to salvage the look.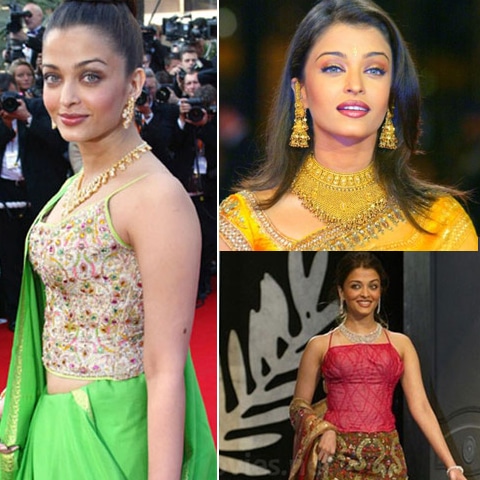 Another miss that year was a pink strapped top with a printed bottom which also spelled disaster.  In 2004, Aishwarya looked like she had picked something out of Mallika Sherawat's closet – a silver cutout gown by Neeta Lulla with a matching clutch.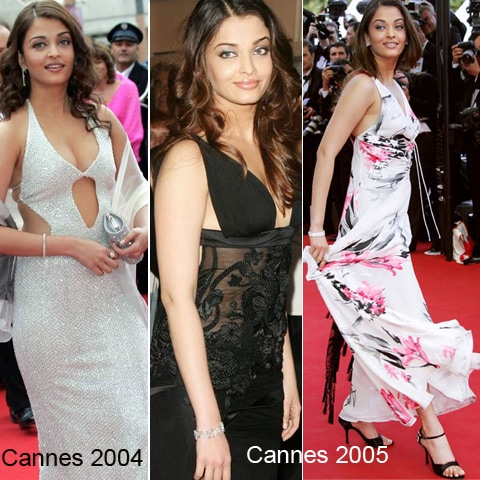 The year after that, Aishwarya had much better luck on the red carpet. She wowed her fans and critics alike in a feminine, printed gown by Georgio Armani. But the sheer embellished black Gucci gown she wore that year simply blew us away.
2006 was also a good year for Aishwarya – she looked glamorous in a dark blue strapless gown.
2007 was the year that Aishwarya tied the knot to Abhishek Bachchan. So her dashing husband was her most-prized accessory that year on the Cannes red carpet. But Aishwarya too was gorgeous in a white strapless gown with a diamond-studded choker.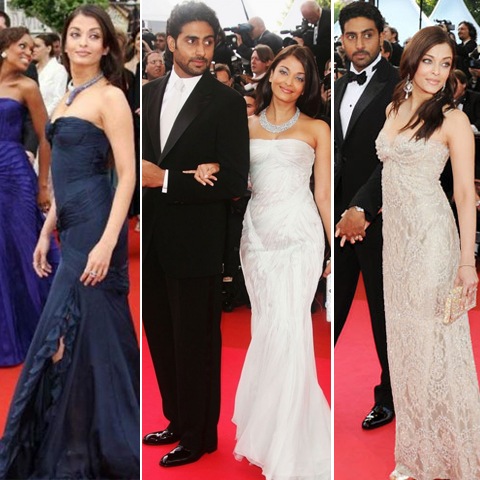 The following year was also a win-win for Aishwarya who walked the red carpet in envious gowns including a gold one, a stunning black and a bring pink satin evening dress.
Her appearance at Cannes in 2009 is till date considered as Aishwarya's best ever red carpet appearance at the prestigious film festival. On Day 1 she wowed all with her floor-sweeping Roberto Cavalli strapless white gown.  Day 2: Ash was stunning in a grey Elie Saab one-shoulder gown and slicked-back hair.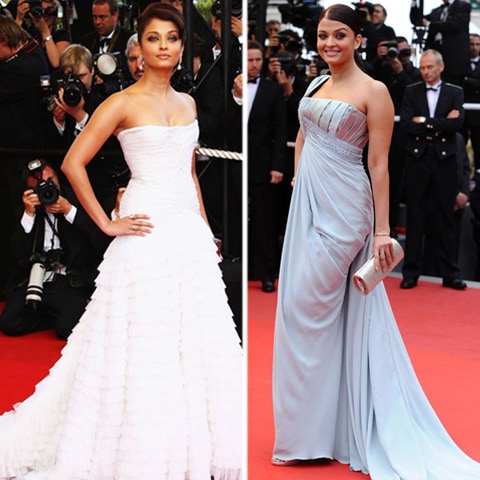 By 2010, Aishwarya Rai began …continued »