It's no secret that Abhishek Bachchan loves pranks and is known to be the biggest prankster, especially on the sets of his films.
Dad Amitabh Bachchan recently posted a childhood picture of Abhishek along with his mother Jaya Bachchan.
@SrBachchan FB 569 – And another nostalgic moment : Jaya with the prankster Abhishek .. he still is the same !! pic.twitter.com/RajeCN0QsY

— ♔_Amitabh Shahrukh_♔ (@AMITABH_SRK_FAN) May 1, 2014
Abhishek Bachchan, who is known to have a great sense of humour, spares nobody when it comes to his mischievous escapades, targeting one and all from directors to co-stars.
While working on Farah Khan's 'Happy New Year', Abhishek pulled his director's leg twice. Abhishek apparently held Farah hostage in his vanity van. "'I'm being held hostage in @juniorbachchan make up van..he's threatening 2 go home if I leave..how 2 go n set up my shot now???," tweeted Farah.
Abhsihek Bachchan tweeted a response, "'@TheFarahKhan PACK UP!!!!! I'm going home how can I shoot when you're looking like this?," posting a picture of a disheveled Farah Khan.
However, this wasn't the end of the jokes on the 'Happy New Year' sets. In the true spirit of April Fools Day, the team sent a cake to Farah with the film's poster on it. But there was a minor change – they replaced each of their faces with Farah's face on the cake.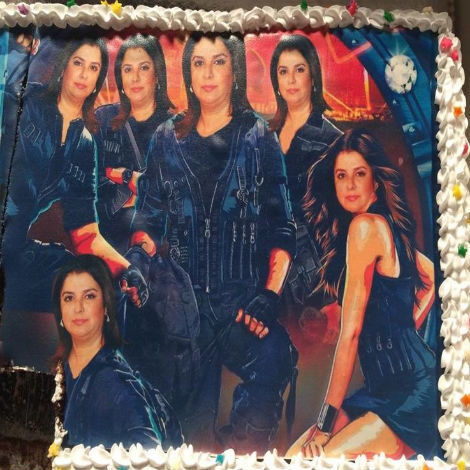 While working on Rohit Shetty's 'Dum Maro Dum', Abhishek who carried his father Amitabh Bachchan piggyback in 'Paa' playfully demanded a production member to ferry him back and forth from his van to the sets piggyback, which the sporty team member gladly obliged.
Abhishek's wife Aishwarya is also not spared from the actor's pranks. After the music launch of 'Khelein Hum Jee Jaan Sey', Abhishek held hands with his unsuspecting wife and led her into one of the rooms of the grand hotel.
It was only after she entered the room that she realised, Abhishek had taken her into a men's washroom. The actress burst into laughter, shocking onlookers, both inside and outside the washroom.
Actress Sonam Kapoor, who worked with Abhishek in Abbas-Mastan's 'Players', also revealed previously that everyday the actor is on the lookout for a new victim.
Well, it's nice to know that even after all these years, Abhishek Bachchan is still the same jokester.
For all the latest Entertainment News, download Indian Express App