Bollywood megastar has done it again with 'Bhoothnath Returns'. Big B's latest venture has spelled success for the star at the age of 71, a feat not many of his colleagues can claim.
Big B's son Abhishek Bachchan tweeted, "71 and still socking it outta the park!! #legend #BigB #BhootnathReturns #partytobantihai"
The political satire film has earned more than Rs. 25 crore within four days of its release. The film has received good reviews for the content and it presentation. The flm fraternity to has a good word to spread about the film.
In Pics: Boman Irani, Parth 'Party With Bhoothnath' Amitabh Bachchan
Abhishek Bachchan also posted a picture on Istagram, looking smug pointing at his t-shirt, which featured dad Amitabh Bachchan's picture. The t-shirt is also in demand as filmmaker Sujoy Ghosh also intends to get one!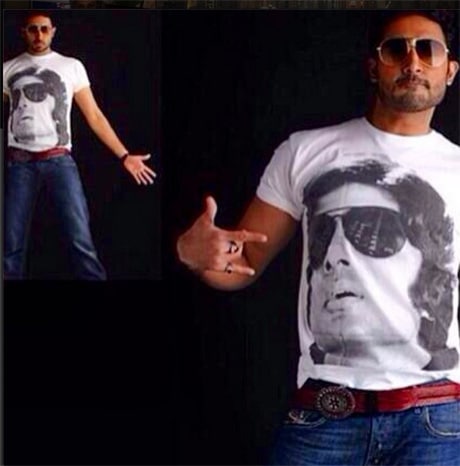 Meanwhile, the makers of 'Bhoothnath Returns' hosted a success party for the cast and crew in Mumbai on April 16. For Big B it was a moment 'etched in great pain and sweat and tears.'
Big B says, "'Bhoothnath Returns' wins the election and throws a success party! A moment of happiness .. naah … so cliched and done statement ! A moment etched in great pain and sweat and tears .. a moment which shall be treasured for posterity." He also said, 'The success has meant so much to all of us. To pull off a film with no stars, no large box office names, and no conventional escapist content – the one renowned to rattle up some serious numbers at the box office."
However, Amitabh Bachchan also noted that the success party in 'his time' was more to celebrate a film's 'silver or gold jubliee', which has now 'lost entity'.
Amitabh Bachchan wrote on his blog, "Cathartic in countenance, such elements of joy and celebration were a million miles away in our times. A jubilee function or that of a silver or gold was almost a lost entity. It meant the world to put one together and then to wait for it to happen after its 50 weeks or so. Now … its instant; the status known and announced in a jiffy, to the rest of the world .. no mementoes, no nothing .. just a large crowd of invites, a stage for the cast and crew to assemble, short speeches of the 'fun' and the 'frolic' enjoyed by all, a photo – op and back home after a thousand 'selfies' ! That ladies and gentleman is the crux .. at the end of the day … errrmm … night !!"
For all the latest Entertainment News, download Indian Express App