Rapper Yo yo Honey Singh is all praises for the Bollywood megastar Amitabh bachchan, with whom he worked for the laters film 'Bhoothnath Returns'.
"It's like being in a room filled with kinetic energy. Shooting with the Big B made me feel so old and inadequate. Not for a minute does he remind you of who he is. In fact I felt I was with someone much younger than me," says Honey Singh who turns 31 this month. Honey Singh song with Big B is a promotional video for the film.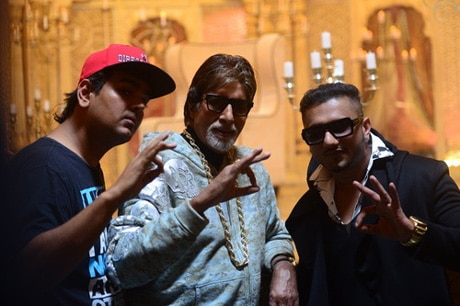 "I had to be very careful. It is okay to use casual trendy words for the younger stars. But the Big B is a mahaanayak, a star of stars. The lyrics couldn't be even remotely irreverent," says Honey Singh. "It isn't as if we decided to be prim and proper in the song. There is a great deal of masti in our number. Bachchan Saab likes to have fun with the young. But I had to exercise self-censorship for the first time because this was for Bachchan Saab, and it was going to be incorporated into a film targeted at children."
Honey Singh added this song with the Big B is his final clean-up act. "'Lungi Dance' became a rage with kids. Until then I didn't know I had a connect with kids. Before 'Lungi Dance' my music was being branded aggressive and raunchy. Mujhe koi farq nahin padta mere music ko kya label kiya logon ne. But I was naturally happy to know I connected with kids."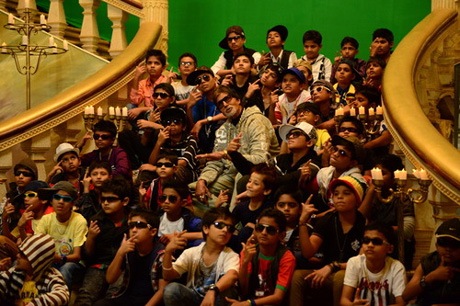 According to Honey Singh, the song with Amitabh Bachchan is "completely cleaned out." Not that Big B was adamant on the song being policed. Honey Singh said, "Bachchan Saab was the coolest and youngest one on our crew. Every time he came on the sets the energy level went up by many notches. When he left we actually felt the energy level drop. He has the energy level of a 22-year old."
The song was shot over two days. At the end of the shooting Honey Singh and his gang organised a party on the sets.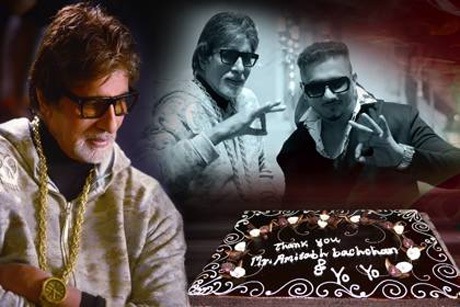 The rapper said, "We had this huge cake which said, 'Thank You, Mr Amitabh Bachchan' and we partied hard at the end of the song. Bachchan Saab has spoilt me. He is addictive. Everyone who works with him wants to do so again. Toh main kaun sa exception hoon? Yes, I've plans of doing more music with Big B."
As soon as both the parties are can co-ordinate their time together, we'll see Big B and Yo Yo get together again."
He also said, "The two biggest superstars of Bollywood are Bachchan Saab and Shah Rukh bhai. I've worked with both now. And I've learnt so much from both of them. Now I want to take our association to another level."
Honey Singh was in Dubai recently performing live with Shah Rukh. "We invited Dubai's royal family on stage. Only Shah Rukh Bhai can pull off something like that. No one says no to him."
For all the latest Entertainment News, download Indian Express App