Bollywood superstar Aamir Khan can't wait to see close friend Salman Khan's upcoming film 'Jai Ho'. Aamir Khan has already started a countdown for 'Jai Ho' on Twitter.
The actor has been tweeting about the movie on a daily basis on Twitter.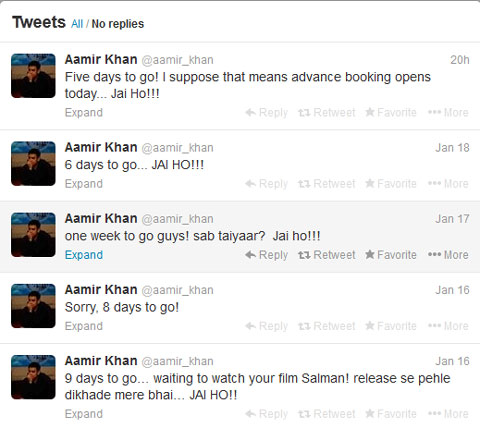 'Dhoom 3' star had also requested Salman Khan to organise a special screening for him before the film's release on January 24. "Waiting to watch your film Salman! Release se pehle dikhade mere bhai (Brother, please show me the film before its release). 'Jai Ho'," he had posted on Twitter.
Salman Khan had also promoted Aamir Khan's 'Dhoom 3′ on his celebrity reality show 'Bigg Boss – Saath 7'. Salman Khan hosted the show wearing Aamir's signature 'Dhoom 3′ hat, which becamse a successful promotional strategy.
Seems like now it is Aamir Khan's turn to return the favour. However, Aamir Khan had kept himself away from doing promotional rounds on TV for his 'Dhoom: 3′
For all the latest Entertainment News, download Indian Express App