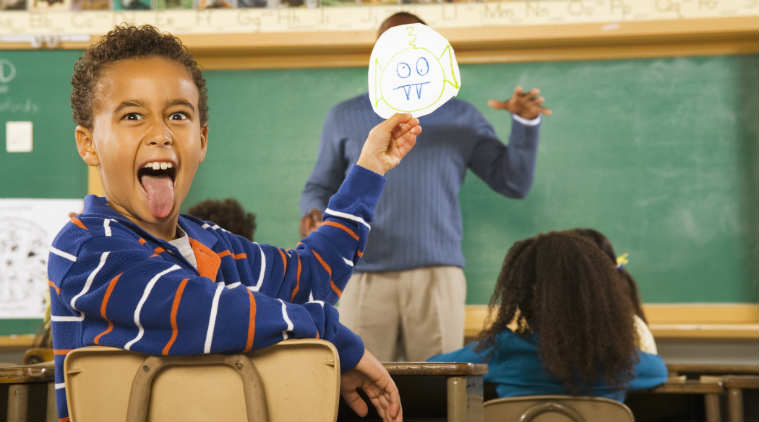 We all have sweet and sour memories of school days but one thing that we can't forget is how we irritated our Hindi teacher or pulled pranks on the chemistry lecturer. So, this Teacher's day, let's relive those moments again.
While throwing paper planes, crackers or simply parking plastic rat/ cockroach on teacher's seats were a regular affair but some students have really given a hard time to their teachers. Take a look:
We were in class 10 and wanted to gift something to our newly married teacher. So we contributed money and gifted her a set of Kamasutra books. The cost was Rs 790 but the shocking expressions were priceless.
Nandgopal Rajan, journalist
My Biology teacher was so shy that he used to sweat while teaching on reproductive organs. To embarrass him further, we friends got some Playboy magazines cover and kept inside his bag. The moment he opened it, they all fell down on the floor. All 40 students in the class burst into laughter while he was hiding his face.
Abhishek Kundu, HR executive
I and my classmates were passing a basket ball while the maths professor was teaching in the class. When the teacher turned back, my hands were in the air. Before he could say anything, I said, "Sir, big makhi, sir!" and managed to get away without punishment!
Manav Hans, advocate
Our English teacher was known for fine dressing and perfect hair. So we all decided to give her a make-over. We kept chalk powder in a big lunchbox and placed it over the door. The moment she entered, the white chalk powder fell on her and her beautiful hair and face turned white. She kept sneezing and we all ran out of our class to avoid dust. While we were happy to miss our class, she made us attend class on Sunday  to "finish syllabus".
Dipti Singh, teacher
We rubbed shoe polish on the door handle of the class. In hurry, the maths teacher did not realised that his hands are turned black. He touched his forehead unknowingly and the black shoe polish was smeared on his face. In the entire 30 minute class, none of us pointed him out. Only when he went to the staff room, we heard him screaming.
Ankur Sharma, student
I was in the boys' school and whenever our Sanskrit teacher used to go to the washroom, I and my friends followed him and pee next to him. He understood our intention is to irritate him and one day, he shouted on us. Next day, we placed three gola bombs (crackers) at the washroom. We used agarbatti to slowly light them up. The moment he went inside, we locked the door. All we remember is his shocked face.
Ashwani Nigam, sales manager
We scrubbed chalk powder on the sides of teacher's table. So when he pass by, the chalk dust got stuck to his pants and he did not realised it.
Vikram Roy, student
Our chemistry teacher was known for strict punishments. As she was fond of handbags, one day we glued her favourite jute bag with a chewing gum and added chilli paste in it. She was horrified and to get rid of it, she used her fingers. Rest you know what must have happen to her.
Minu Prakash, bank PO
For more stories on Teachers' day, click here