Written by
Neeti Nigam
| Noida |
Updated: October 11, 2016 12:31:42 pm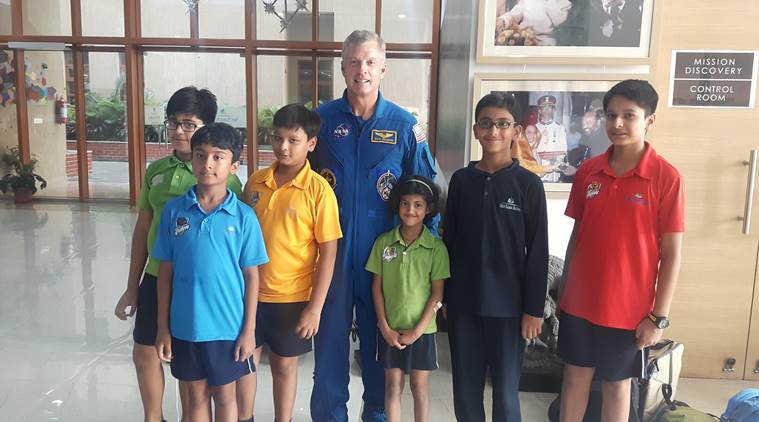 They say the best out-of-box ideas come from young minds. All what is needed is the right kind of guidance. Therefore, to tap the enthusiasm and generate the interest of students in STEM courses, International Space School Educational Trust (ISSET) is hosting its Mission Discovery programme at Shiv Nadar School, Noida.
What Else Is Making News?
In this five-day programme, students are divided in teams where each group has to present one unique idea that can be 'workable and useful to earth'. The winner team's 'original experiment' is sent to the National Aeronautics and Space Administration (NASA) who will further develop it and would send it to the Space.
This is the first time that such a workshop is being conducted in Asia. Under the mentorship of ISSET team that includes retired NASA astronaut Steven Swanson, students took keen interest in understanding the functionality of a space station.
"This is my first visit to India and I am completely amazed with the enthusiasm shown by the students. Their knowledge is at par with their peers from other countries such as the United States, the UK or Australia," said Swanson.
About 250 students from classes 8 to 12 were part of the programme that includes 17 schools of north India. One of the projects were on understanding how ferrofluid can help in determining the distance of asteroids from Earth.
Read: South Asia needs 15 million new teachers by 2030: UNESCO
Some of the past winning projects include determining the effectiveness of treatment of conjunctivitis in microgravity or carbon dioxide consumption by cacti in space.
The result will be out on October 9.
For more news on education, click here
For all the latest Education News, download Indian Express App