Topi and jhadu in place, Ware walks a tight rope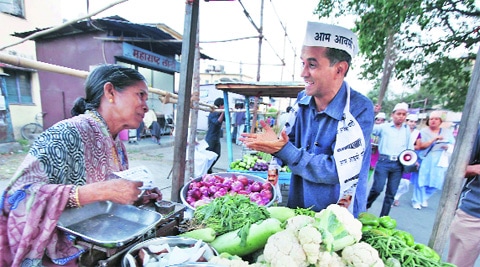 AAP candidate Subhash Ware talks to a vegetable seller. (Photo: Sandeep Daundkar)
THE volunteers of Aam Aadmi Party (AAP) might be in a minority compared to their established competitors, but what they lack in number they make up in enthusiasm.
So, as a handful of volunteers wait at the bus stand of Range Hill quarters in Khadki at 6 pm on Wednesday for the rally of Pune candidate Subhash Ware to start, enthusiasm is at an all-time high. Many of the volunteers have come directly from office and there are some remarks about their formal wear, which they take in their stride. Ware is a bit late and so volunteers catch up on topics related to politics and cycling. The latter is not out of the place as the party has avid cyclists like Ranjit Gadgil in its folds.
Ware's arrival sees the volunteers getting into action distributing the hand bills and sloganeering. "I was at the meeting of domestic workers and post the meeting, they collected contribution of Rs 3,000 and gave it to me," Ware tells his colleagues. Soon, he starts his padyatra, stopping to meet people with folded hands and asking them to vote for him. "Please remember the jhadu, give your man a chance," he says.
The AAP topi is an instant hit with the children and the youngsters who come out to ask for it from the volunteers. Among the volunteers are middle aged home makers and college students, who ask people to vote for the broom. Soon, the volunteers realise they have left the jhadu in offices, so they buy a few from the nearby shops, much to the amusement of residents.
Lila Tambe, speaking with her neighbour after the interaction with Ware, said she will vote for him. Some shopkeepers get out of their shops to shake hands with Ware.
Also when another group of youngsters ostentatiously campaigning for the Congress comes in the way, they see to it that there is no clash of paths.
After completing their round, the volunteers get into their cars to go to their next destination Barathevasti near Ambedkar Chowk on Aundh Road. When they reach the spot, the rally of the BSP candidate is on. However, Ware reaches out to the BSP candidate and shakes hand with him.
The volunteers then go to the slums, where kids scamper for the party's topi. "Please vote for me, we have had enough of the politics of the big people. Give the aam aadmi a chance," Ware says to the residents. Apparently, the party has managed to touch base with all the slums in the city in the past one month.
While the slumdwellers smile and shake hands with him, some other people have harsh words for AAP. A person who was decorating a makeshift temple refuses to listen to Ware and instead starts on how Arvind Kejriwal is a liar and how he failed …continued »