Pune |
Updated: February 6, 2014 12:18:37 pm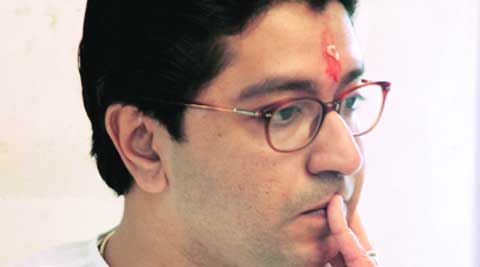 Despite being in Pune three days after he was booked for abetment of violence at toll booths, the Pune rural police failed to arrest MNS chief Raj Thackeray  on Thursday in a bid to avoid political repercussions. The police said legal opinion had been sought in the matter.
Thackeray, in fact, did not also pay fee at three toll booths on the Mumbai-Pune Expressway as the company had reportedly stopped the collection for a few minutes as his convoy passed, fearing a backlash.
It may be recalled that Home Minster R R Patil had faced the ire of the cabinet for not arresting Thackeray in spite of the offences registered against him for abetting violence at toll booths in Pune district.
A senior police officer said, "It is a political decision. We now know that political leaders have come to the conclusion that Thackeray's arrest will bring him back to the centre of attention and can also lead to much more violence. We have not yet received an nod on his arrest and it is unlikely in next two to three days too."
Thackeray was booked under Section 109 of the Indian Penal Code for allegedly instigating violence along with other MNS workers, who were booked for violence and unlawful gathering.
Superintendent of Police (Pune rural) Manojkumar Lohiya said, "The home ministry has written to the ministry of law and judiciary for a legal opinion. Thackeray has been named in the FIR based on the opinion of the investigating officer. But the decision on the arrest will only be taken after we receive a reply from the department."
No toll fee was charged on the cars in which Thackeray and his associates came to Pune on Thursday. An officer with the state highway patrol said, "The IRB had stopped toll collection for about 20 minutes when Thackeray's convoy was passing, fearing a backlash from the large number of MNS workers who had gathered at the three toll booths."
For all the latest Pune News, download Indian Express App