Rahul Gandhi takes on CM Narendra Modi, says women stalked in Gujarat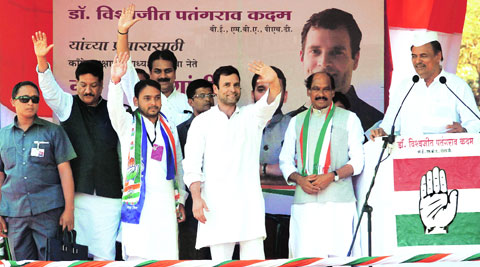 Congress vice-president Rahul Gandhi at a rally in Pune on Tuesday. (IE photo: Sandeep Daundkar)
Accusing the BJP of giving false assurances, Congress vice-president Rahul Gandhi on Tuesday said while women are being stalked in Gujarat, the BJP is talking about their empowerment.
"There are posters of BJP talking about empowerment of women. However, it is in Gujarat that telephone of women are being tapped and even the police are following them. They are doing the opposite of empowering women," Rahul said at the rally for Congress candidate Vishwajeet Kadam in Pune.
Women in Pune can move without fear after dark and there is no need of police to protect them, Rahul said adding that it is the thinking of people that gives security to women and the entire country should follow it. "The Congress was pushing for 33 per cent of reservation for women in Lok Sabha and state Assemblies but it was the BJP that stalled the move," Rahul said.
The Congress vice-president said the city follows the principle of love and brotherhood which was inculcated by Maratha warrior Chhatrapati Shivaji, freedom fighters Gopalkrishna Gokhale, Lokmanya Tilak and Mahatma Gandhi and which was followed by his party.
There is another ideology in the country that follows the thinking of Nathuram Godse, he said adding that while one ideology unites, the other thinks of dividing the country. "The ideology of Gandhi always win. Why Godse killed Gandhi was because he could not defeat his ideology. This is the reason he shot Gandhi with a pistol," Rahul said.
The BJP cannot defeat the ideology of the Congress and that followed by residents of Pune, he said adding that the BJP's balloon of "Indian Shining" had burst in 2004 elections which showed that they had no link with the poor and farmers.
"We believe progress in the country is not because of any political party or leader but because of the citizens. The Congress is working on breaking the wall between rich and poor through food security bill, right to education and livelihood to poor in the rural area," Rahul said.
He said the BJP's prime ministerial candidate Narendra Modi had been talking about the Gujarat model of success but had forgotten the contribution of women and farmers. The Congress vice-president said the Modi-led government in Gujarat had given land to Adani at Re 1 per sq-metre and gave loan to Tata company which amounted to more than what it spends on health and education in the state.
"One should realise where the money is coming for marketing of Modi. Every public meeting of Modi has expenditure of Rs 10 crore. Is it free?" he questioned.
The Congress vice-president also claimed that the BJP had copied Congress's manifesto. He alleged that one person was making all the decisions in BJP unlike in the past. "Earlier, there used to be discussion among senior BJP leaders as Atal Bihari …continued »