New MPs promise moon; Puneites hope they won't be brought down to earth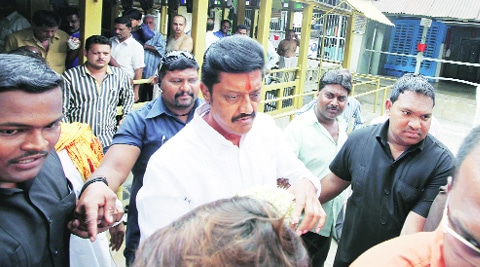 Newly-elected Pune city MP Anil Shirole is surrounded by several bodyguards.
A day after Puneites got to know who will represent them in Parliament, the city  continued to debate how the winners and the losers fared on poll terrain. Those who backed the winners grinned from ear-to-ear while those who had thrown their lot behind the losers sported glum faces. But that did stop them from discussing the outcome which was mainly centred around what they did, what they could have done what they failed to do or now what are they going to do for "amche Pune."
Political leaders, who are known to speak off the record on such sensitive party issues, were not to be left behind — at least one Congress leader openly found fault with the selection of party candidate. And at least one loser blamed another party chief for his comments that led to his defeat.
Congress MLA Vinayak Nimhan had no hesitation in saying that the party leaders did not take Congress workers into confidence before fielding Vishwajeet Kadam from Pune seat. "In fact, it was a surprise for every Congress worker when Kadam's name was announced," said Nimhan. "Kadam was  an outsider… He also did not seem prepared for the big show," added Nimhan.
Another senior party leader, who was denied a party ticket, said, "Kadam annoyed party workers when he set up his own parallel machinery from Bharatiya Vidyapeeth for campaigning purposes." He also said supporters of Suresh Kalmadi remained 'aloof' throughout the campaigning.
Another Congress leader Mohan Joshi, an MLC, blamed the social media for  Kadam's defeat. "The level to which the campaigning on social media network sunk was seen to be believed. They (rivals) stooped very low," said Joshi. The Kadam camp said he would 'set the record straight soon'.
PWP candidate Laxman Jagtap, who had remained unavailable for the media on the counting day when he suffered a massive defeat, seemed to have regained his composure. He squarely blamed MNS chief Raj Thackeray for his debacle. "Raj Thackeray's speech in Pimpri-Chinchwad where he said illegal constructions should be demolished affected my chances adversely. His remarks angered thousands of people whose illegal constructions are going to be demolished," said Jagtap.
Meanwhile, the newly-elected MPs seemed to be ready with a recipe to put Pune on a 'higher plane'. From solving transport problems, pushing Metro project, local train issue, resolving Red Zone controversy, water shortage problem, meeting rural hospital demand to find solution to garbage woes, they seemed determined to take up one plan after the another..
"I have a five-year term and I will prepare a plan for each of the areas according to a specific period. My top priority would be to address the issues facing the public transport system in the city. I think there should be an IAS officer at the helm of PMPML who should be expected to take drastic …continued »