Meet some behind-the-scenes party 'workers'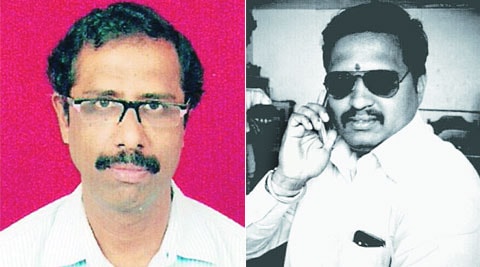 Ramesh Iyer (left) wants to work for Congress and Lawyer Sachin Pawar (right) would to work for MNS.
Ahead of elections on April 17, Prof Shripad Dekhne is a man on a mission. A professor at Tikaram Jagannath College of Arts, Science and Commerce at Khadki, it was the ideology of the BJP that prompted him to dedicate two months for the party as a 'media liasion official' ahead of the elections.
He finished his portions well in advance to take a two-month break to devote himself to his new role. Arranging campaigns, rallies, permissions, press meets and even interactions with various media houses, Dekhne sir, as he is fondly referred to by peers and students, has done it all.
"I was ready to work for the party in whatever capacity and after some training sessions, I was appointed as the western region media cell official. With the help of other party workers we have been managing the entire schedule of the Pune candidate (Anil Shirole) as well visits and press meets of all senior leaders as well as the Modi sabha," said Dekhne.
Starting at 7 am and working until midnight, the work is hectic – he has to regularly interact with the media and know the latest updates from the party. "Arranging press meets and even anchoring the meet and interacting with the media all the time, it was a new challenge every day as we as a team had to work out the schedules," added Dekhne who has been associated with the party for 15 years.
As Dekhne had experience as an active member of Akhil Bharatiya Vidyarthi Parishad, the professor found each day challenging and interesting. Being calm and having sound knowledge about the party helped – it was this nature that made it easy for the media to interact with him. With so much time dedicated to the party work, his wife and two daughters have hardly got to see him and interact with him. "They know that I am a committed person to my work, whether at the college or for the party. They help me by lending their support and understanding and they know that after the polls I will come back to my first role again," says Dekhne. There are times when he does get hassled but it is never shown to the media. "That is the training given to us by convenor Madhav Bhandari and others ahead of the elections. We were taught to handle difficult situations as well as explain the party's stand in the matter," he adds.
So does he get any remuneration for the work? "I believe that if you are committed to an ideology and the party, there is no question of money. It is not only me but a few of us who have been working relentlessly for hours without thinking …continued »