Masalwadi takes a U-turn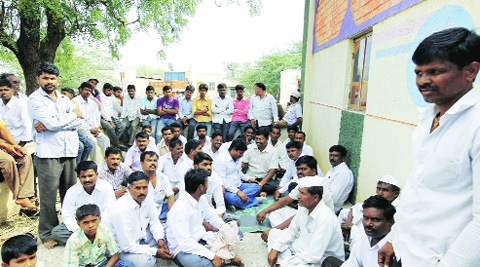 Villagers at the spot in Masalwadi where Ajit Pawar held the "casual meeting" last Wednesday night and made the alleged remarks.
SANDEEP Thombre is now "clueless" about what happened on Wednesday night when Deputy Chief Minister Ajit Pawar visited the village and held a "casual meeting". The 24-year-old resident of Masalwadi village is believed to be the one who had confronted Pawar on that day on not delivering his 2006 promise of supplying water to the village even after eight years.
This had apparently angered Pawar who then allegedly threatened the villagers that they would not get water if they did not vote for his cousin Supriya Sule in the Lok Sabha elections.
"This is wrong," Thombre told The Indian Express on Sunday afternoon. "What's being said in the media is wrong. (Ajit) Dada did not threaten us that he will cut off water, nor did he direct anybody to pick me up. I don't know from where this has come," he added.
Since Thursday morning, Thombre had been reportedly "missing" from the village for fear of media personnel troubling him, said villagers. When The India Express team visited the village on Sunday, he was summoned by Sarpanch Manik Masal and asked to speak on "what really happened on Wednesday night and how false reports appeared in the media".
Thombre said: "I was present at his meeting on Wednesday and I had raised the question about water, but 'Dada' had replied coolly. Also, we do not have any serious water issue in the village as such."
Like all other villagers, he was all praise for Pawar.
"Dada has solved all our problems in the past and I am sure he will solve the the water issue also," said Thombre, contradicting his earlier statement that there was "no serious water problem" in the village.
In Masalwadi, all influential posts, including sarpanch and deputy sarpanch, are held by NCP members. The village also voted for Bhausaheb Kare, a close Pawar associate who belongs to neighbouring Palashi village, as Zilla Parishad member. Kare has been camping in Masalwadi since the controversy broke out.
"All this is a political conspiracy by (Ajit) Dada's opponents. We don't have anything against him," Kare said as other villagers vigorously nodded their heads in agreement.
Intervening, the sarpanch, an NCP member elected unopposed, said Pawar did say "pick him up" at the meeting but it was not directed towards Thombre, as was reported in the media.
"In the chaos, somebody in the crowd had fallen down. Dada saw this and shouted …continued »