From societies to slums, Adhalrao-Patil on the move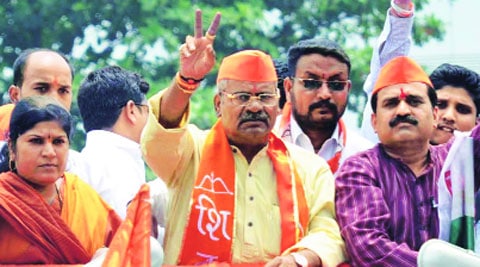 Adhalrao-Patil during his campaign Tuesday. Rajesh Stephan
The road show organised for Shiv Sena's Shirur candidate and sitting MP Shivajirao Adhalrao-Patil in Bhosari on Tuesday is not just campaigning. It is also an opportunity for the party to show that it is still strong in the region after many senior leaders left recently.
So, before Adhalrao-Patil shows up, the younger lot comes in hordes with saffron flags. The rally was to start by 10.30 am. Adhalrao-Patil arrives late, but there is no letting up in the enthusiasm of the crowd. The bikes rev up and the horns blare, signalling the start of the rally through residential and industrial areas of Indrayaninagar, Bhosari, Nehrunagar and other parts of the constituency.
Adhalrao-Patil flanked by senior party leaders takes his place in the open jeep and enthusiastic supporters race their engines on the wide Spine Road. The first stop is a housing society, where the security guards seem reluctant to allow the bikers to enter. However, things are sorted out and the bikers zoom into the society, honking. The leaders smile and wave to the few who make it to their balconies and soon it's time to move on. The honking is surely causing more concern than cheer and a few senior leaders tell the bikers to stop making noise.
The entourage then hits the Pune-Nashik Highway and Sainiks spread across the two-lane road. Enthusiasm comes at a price as soon a bike skids, sending the driver and the pillion rider flying to the sides. Fortunately, there are no serious injuries and the campaigners are on their way to the residential areas of Indrayaninagar.
Here, residents don't seem moved by the saffron crowd as few came out to see the cavalcade. Some road side workers and some old women enthusiastically wave at the candidate. Tuesday being Ramnavami, Adhalrao-Patil and other Shiv Sena leaders dropped by at a temple where a religious discourse was arranged by the local NCP corporator.
Adhalrao-Patil shook hands with the corporator and left the venue after a few minutes.
Then they stop near housing societies where some women climb onto the open jeep to do an aarti of Adhalrao-Patil. He lets them put a tilak but refuses to have sweets. "The campaign trail is exhausting, but Dada (Adhalrao-Patil) is energetic," says a follower.
The Shiv Sena unit in Shirur has seen quite a few desertions, and Ashok Khandebharad — the MNS candidate — was once a senior leader in the area. While Adhalrao-Patil says such desertions will not harm him, some leaders point out that it might make a dent in his victory margin.
The scorching heat does not hamper the enthusiasm of the supporters, who are again honking on the Nigdi-Bhosari Road as they enter the slums.
Soon, a police jeep stops the entourage and sternly warns against sound pollution. If residential societies were marked by empty balconies, the slums saw huge crowds out to see the candidate. Adhalrao-Patil waves at …continued »