Fighting infighting: Week before poll date, parties control dissent within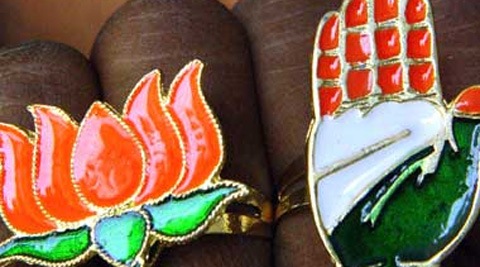 The Congress had won previous election by defeating the BJP in a keenly fought contest. (Reuters)
GRAPPLING with infighting, major political parties in fray for the Pune Lok Sabha seat are having a tough time resolving differences within. With exactly a week left for the voting day, firefighting infighting has become the order of the day.
Bickering within parties had started long before the election dates were announced. The Congress had won previous election by defeating the BJP in a keenly fought contest.
The Congress fielded its state party youth chief Vishwajeet Kadam to battle the criticism it got over sitting MP Suresh Kalmadi's alleged role in the Commonwealth Games scam.
However, the decision did not go down well with the local leaders as they had opposed the candidature of Kadam, calling him an "outsider". Though the party managed to get all local leaders to show a united face in public meetings, the issue is far from being resolved.
Former mayor Datta Gaikwad was allegedly slapped by a party leader on Tuesday after the election campaign of Kadam. Earlier, Chief Minister Prithviraj Chavan had to go to the home of legislator Vinayak Nimhan, who was upset over being denied a party ticket. Other party aspirants are turning up for the campaigning of Kadam, but are said to be not involved wholeheartedly.
"It is obvious that the local leaders are insecure over Kadam being given the party ticket. If he wins, they will have to give up their ambition to contest the Lok Sabha elections in the future as the party candidate is young with a long political career ahead," said a Congress leader on condition of anonymity.
However, the CM and other senior party leaders are working hard to resolve the infighting. "Chavan will be in the city for two days for campaigning and party vice-president Rahul Gandhi will also campaign for Kadam by addressing a public meeting on April 15," said city Congress spokesperson Ramesh Iyer.
The BJP hopeful of winning the seat riding on the Narendra Modi wave expects that everything will fall in line for party candidate Anil Shirole. "Every aspirant is disappointed if denied a party ticket. The party leaders might get upset but will not work against the party," said a BJP leader.
For BJP, the concern is also of the support of Shiv Sena, with MNS fielding Deepak Paigude, a candidate with strong connection with Sainiks in the city. "We have been assured that the Sena vote bank would stick to the candidate fielded by BJP," he added.
The MNS has also admitted there is infighting in the party. "Some party leaders are not working for me. This kind of rivalry is necessary in politics and it is present in every political party. I am relying more on the differences within the other political parties," said Paigude.
The AAP also faced the same problem after the party declared …continued »