Cousin Sule says Ajit is innocent; impossible, says rival, seeks CBI probe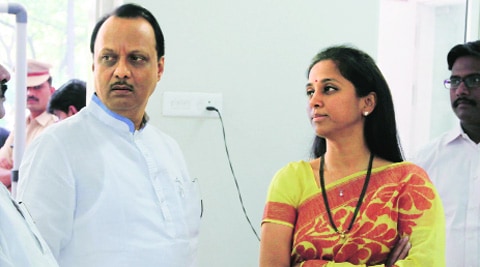 "My brother has not issued threat to anybody," said Supriya Sule
SITTING MP Supriya Sule, who is seeking re-election from Baramati, does not believe that her cousin and Deputy Chief Minister Ajit Pawar has said what is being allegedly attributed to him. "My brother has not issued any threat to anybody…My brother is innocent…" Sule told this newspaper on Sunday.
Reacting first time to the controversy over the alleged threat issued by Ajit Pawar to cut off water supply to Masalwadi villagers if they did not vote for her, Sule said: "A small incident at a village has been blown out of proportion… I am confident that my brother would never make such remarks especially in an area where we have toiled hard for the welfare of the people," said Sule, who was campaigning for the Congress-NCP alliance candidate in Dombivli.
Asked why both Sule and Ajit did not set the record straight immediately after the controversy broke out, she said: "There was no need to keep issuing clarifications for things we haven't done… Ours is a democracy and people have the right to raise their point. Since the complaint has been made, the police are looking into the matter, the Election Commission is looking into the matter, the court will look into the matter if it is placed before it…"
Asked if she was worried about the election result or her victory margin, Sule said: "After the voting took place, I have not done any calculation. I had left it to the voters, to the God… I do not want to hazard any guess about my victory. I am not anxious… I will wait for the counting day…" Sule had won the 2009 elections by a margin of 3.25 lakh votes.
About the "anger" brewing among Baramati villagers over water supply, Sule said the work of laying the pipeline was currently under way and it would be completed soon.
Minutes later, Sule's close associate Datta Balasaraf called up this correspondent to explain in greater detail the campaigning undertaken by Sule in the constituency nurtured by her father and NCP chief Sharad Pawar.
"She (Sule) has been touring the constituency since January and had taken up several grievances of the villagers. In the last five years, she has always remained at the beck and call of the voters. The water woes of Masalwadi and other villages will also end once the direct closed pipeline work from Purandar is completed in a few months' time," he said.
However, Sule's rival in the constituency Mahadev Jankar is not convinced  about the Pawar family's contribution to Baramati. "The Pawar family has worked for itself and has done nothing for Baramati. The people have realised this and are therefore are openly protesting," he alleged.
Slamming the Pune rural police, which gave Ajit Pawar a clean chit in less than 48 hours of the complaint being filed, Jankar said: "The police investigation …continued »