Cops speak for Pawar: 'He didn't threaten voters'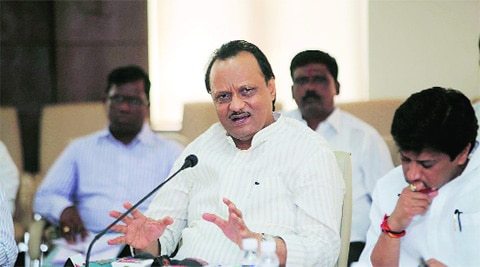 Deputy Chief Minister Ajit Pawar addresses a press conference at Council Hall on Saturday. (Photo: Pavan Khengre)
DEPUTY Chief Minister Ajit Pawar, who has remained unreachable and unavailable after the controversy over his alleged threat to villagers of Masalwadi in Baramati constituency surfaced, can now allow himself a breather. The Pune rural police have in 48 hours declared him "not guilty" of threatening the voters or holding any public meeting in the village on the eve of polling day.
However, the rural police have registered a non-cognizable complaint relating to poll malpractice under Section  171 (C) of  the Representation of People Act. "This  means Ajit Pawar cannot be arrested and the complainant would have to approach the court to seek redressal of his grievance," Manoj Kumar Lohiya, Superintendent of Police, (Pune rural) said on Saturday.
Ajit Pawar had, as per a complaint filed by AAP candidate Suresh Khopde, allegedly warned residents of Masalwadi village that he would "cut" their water supply if they did not vote for his cousin and sitting NCP MP Supriya Sule. A purported video of Pawar addressing a gathering in Masalwadi village had been cited in the complaint made at the Vadgaon (Nimbalkar) police station.
The rural police which investigated the allegations against Pawar said they have found "no truth" in the allegations that he threatened the villagers of Masalwadi that if they didn't vote for Sule. "We have also did not fond that Pawar threatened the villagers as alleged by the complainant. He also did not try to influence any voters. Besides, our  investigation found that Pawar held no public meeting on that particular day," Lohiya said, denying that the rural police were under any sort of pressure to give Pawar the clean chit.
"We got no calls from any quarters. There was no pressure from anyone. You can check my cellphone records… It was a free and fair inquiry," he said.
Deputy Superintendent of Police Sambhaji Kadam (Baramati), however, confirmed that Ajit Pawar was present at the village around 8 pm on the eve of polling day. "Our investigation found that the Deputy CM had gone to the residence of a party worker called Sandeep Pawar was on the way to Pune from Baramati. Pawar went to the residence of the party worker and had an informal chat. The party workers thanked Pawar for helping the village get water," said Kadam.
"Our investigation went to the residence of at least three villagers who were present at that time. All of them said Pawar did not threaten anyone…"  Kadam said, "We have not considered the video at this stage."
AAP candidate Suresh Khopde, who had filed the complaint said,"What was Pawar doing in the village at that moment? This clearly raises suspicions…" He said, "As the police have filed non-cognizable complaint, I will approach the Judicial Magistrate First Class," he said.
As to whether the …continued »