Chaos, anger across city over missing names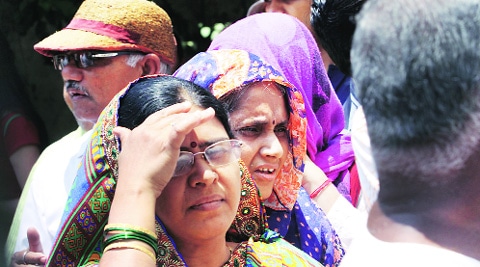 Voters braved the scorching sun to cast their votes, at a booth in Kothrud . (Photo: Arul Horizon)
Disappointment, frustration, anger and confusion reigned supreme in areas such Koregaon Park, Kalyaninagar and B T Kawade Road as many residents did not find their names on the voter list when they went to exercise their franchise. Despite having the voter's ID card and having voted in the past elections, these people were forced to leave the polling booth.
Harishchandra Chudasama, 76, had never missed a chance to vote ever since he turned 18. He almost broke down Thursday when the polling officials told him that his name was not there on the list. "Since my father is old, I accompanied him to the booth at Shri Sant Gadge Maharaj High School, North Main Road. We reached there around 8 am.
We searched for his name for almost an hour but couldn't find it. Voting means a lot to him and he literally started crying when he was told he can't vote. It has happened in the past that even though we didn't have the voting slips, we found our names on the list, but this time, we didn't," said Aradhana Chudasama, 41, a resident of Lapis Lazuli, Koregaon Park.
Bharati Pancholi and her husband have been staying in Pune for the last 20 years and have always exercised their right to vote. However, this year, the couple couldn't because their names were missing from the list.
"My husband is physically challenged, so I went to the booth at Shri Sant Gadge Maharaj High School, thinking I will get him there after I locate both the names. Shockingly, while both our names were missing, my mother-in-law's name — Malti Vishnu Pancholi — was there on the list even though she died in 2010 and we were issued a death certificate too," complained Pancholi. She added: "Someone suggested I should try finding my name in Shinde Vasti, Mundhwa booth, so I went there too. But couldn't find it there either."
At Erin Nagarwala School in Kalyaninagar, a number of residents who had applied for the voter's ID card and had not received yet were seen searching for their cards in the specified boxes. "It is such an important document and here the cards have been left irresponsibly in the hands of common people. We were asked to search for the cards on our own. Neither could I find my card, nor could I locate my name in the list.
This would have been the first time for me to vote. My husband and I had applied for the voter card about three months ago but didn't get it after searching for more than an hour," said Bhavna Gosai, 39, a resident of Kumar City, Kalyaninagar.
There were also those who had the voter's ID card but not the voter slip and had …continued »