After Kadam slips on Pune terrain, Congress wounds out in the open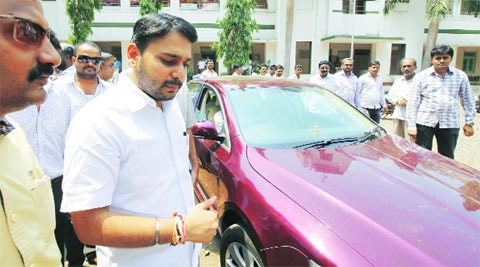 Vishwajeet Kadam at the Congress headquarters in Shivajinagar on Sunday. ( Source: Express photo by Pavan Khengre )
Embarrassed  by the party's worst ever defeat in Pune as well as in other parts of the state, Congress leaders seemed to be in no mood to clam up as they had in the past. At least in Pune, they are openly voicing their frustration and anger at the miserable performance of the party and even calling for heads to roll.
On Saturday, MLA Vinayak Nimhan had said — referring to Pune candidate Vishwajeet Kadam —  Congressmen were not taken into confidence when an "outsider" was imposed on Pune, clearly hinting that the party leadership had failed to make the right choice.
On Sunday, Deepak Mankar, who was denied ticket, openly called for resignation of Chief Minister Prithviraj Chavan. Kadam himself did not mince any words as he gave full reign to his sentiment post the "shock defeat".
"The chief minister should resign taking moral responsibility for the party's worst performance of party in the state. If need be, we would also hold protests in the city demanding his resignation," said Mankar, a former deputy mayor of Pune. He said the performance of party candidates, including Vishwajeet Kadam, in the state was pathetic to say the least.
Mankar spoke at the Congress headquarters in Shivajinagar on Sunday afternoon where several party leaders where present to review the party's pathetic performance in Pune.
Kadam, who gave the Congress its biggest defeat in Pune, did not hold back himself as he clearly directed his ire at a "few leaders from both Congress and NCP" blaming them for his defeat. "Most of the Congress and NCP leaders campaigned hard for me. But a few leaders from both the parties worked against me, which led to my big defeat," Kadam told Pune Newsline.
While Kadam managed to secure 2,54,056 votes, Shirole notched up 5,69,825 votes.
Kadam said he could not believe that he lost by a margin of 3 lakh votes. "Such a huge margin is not possible unless certain leaders from both parties joined hands with my rival. I can understand my losing by 1 lakh votes or so, but this margin is clearly unbelievable and is due to internal sabotage," he said.
When asked as to name these leaders, Kadam said: "Everyone knows who they are…I don't need to name them. I will send my report to the party leadership both at state and central levels naming these leaders."
Asked if Suresh Kalmadi, Vinayak Nimhan or Mohan Joshi worked against him, he refused to comment. Kadam said party leaders from the state to local units should introspect to ascertain the reasons for the party's worst performance in the state.
Sources in the Congress said those who were denied ticket could have worked towards Kadam's defeat.
When contacted, Nimhan said he had worked wholeheartedly for Kadam. "I will …continued »