A day before verdict, candidates take it easy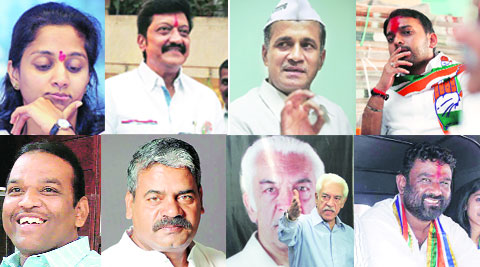 Most stay home, others spend day reviewing preparations for counting.
With just a few hours to go before their electoral fate is revealed, the candidates of all parties in Shirur, Pune, Baramati and Maval seemed to be composed on Thursday. Many of them preferred to stay put at home rather than venturing out or indulging in speculation about the poll outcome.
It was a usual day for sitting MP and NCP candidate from Baramati Supriya Sule. With daylong meetings with party workers and leaders revolving largely around the strategy post Friday, Sule remained in Mumbai office of the NCP.
A devotee of Pandharpur Vithoba, faith and luck did not seem to dominate the minds of Sule camp. "The question with Tai (Sule) is not whether she will win. It is about what margin she would win with. Yes, we are curious about how NCP fares, especially in the backdrop of the exit polls that are predicting all sorts of results. But a visit to Pandharpur may be on cards only post the results," said Nilesh Raut, state president of the Nationalist Student Congress. He said it was "really a routine day" for her without even a call from her father and NCP chief Sharad Pawar or other well-wishers to wish good luck for the big day.
Sule has no plans to turn up at the counting venue on Friday. "She will be in Mumbai looking at the overall picture. A Pune visit is scheduled on May 19," Raut said.
BJP's Pune candidate Anil Shirole was away from the city for some personal work throughout the day. He said he would reach the city by evening and hold a meeting with the polling agents who would accompany him to the FCI godown on Friday. A temple visit too is on the agenda, according to the schedule planned out by his wife. "Once I am back in the evening, I would first hold the meeting and then proceed for some 'dev darshan'." said Shirole.
On Thursday, Congress candidate Vishwajeet Kadam offered prayers at a Ganesh temple in the city and reviewed the preparations of the party for appointing the counting agent. In the evening, he visited the Dagdusheth Ganesh temple and Akhil Mandai Ganesh temple, before rushing to attend a wedding ceremony.  "Select party leaders were briefed on the ways counting should be tracked. The workers have been asked to be at the party headquarters," said Kadam.
Maval constituency witnessed a bitter contest between traditional rivals Laxman Jagtap and Shrirang Barne, but a day before the counting, the two rivals did not sound worked up. "There is absolutely no reason for me to be tense," said Jagtap, who was fielded by the Peasants and Workers Party and supported by the Raj Thackeray-led Maharashtra Navnirman Sena. Barne seemed to be equally calm. "I don't take tension, but make people tense," he said. While Barne took a week's …continued »