Written by Express News Service | New Delhi |
Published: December 8, 2013 7:38:09 am
Aam Aadmi Party leader Arvind Kejriwal on Sunday defeated three-time chief minister Sheila Dikhshit in New Delhi constituency.
"This is not my victory. It is a victory of people of New Delhi constituency and victory of democracy," said Kejriwal after defeating Dikshit.
The debutant Aam Aadmi Party which made a strong entry by winning 26 seats and was ahead in 01,is giving jitters to BJP which has won 32 seats and is ahead on 01 seat.
BJP's CM candidate Harsh Vardhan was also victorious from Krishna Nagar constituency.
Kejriwal's AAP registered victory on 18 seats including one from Hari Nagar constituency.
Three-times chief minister Sheila Dikshit is trailing behind Arvind Kejriwal (AAP) by around 5000 votes in the New Delhi constituency. After round three,Arvind Kejriwal had 8230 votes compared to Sheila Dikshit's 3720 votes.
BJP's Chief Ministerial candidate Harsh Vardhan was leading in his Krishna Nagar constituency by 5,000 votes.
Vardhan,whose party appears heading to form the next government by leading in 34 seats,said his priority would be to set up a task force within a fortnight of government formation to address issues of urgent importance and strengthen security of women.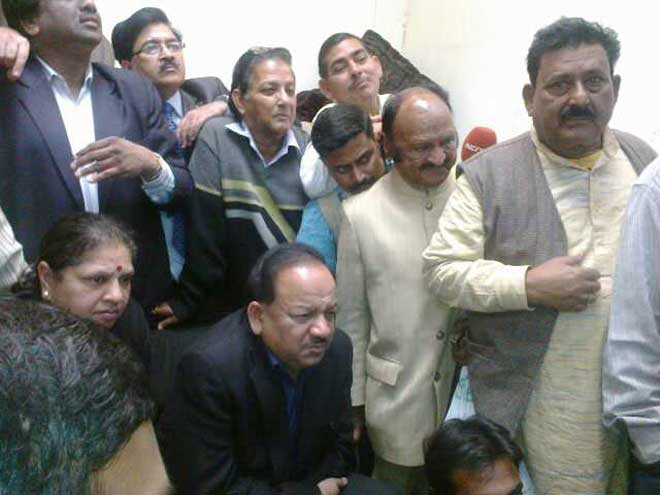 AAP candidate Shazia Ilmi was trailing at the end of round 7 by 37 votes in RK Puram constituency. She had been in the lead for a few rounds.
Delhi Minister of Social Welfare,Kiran Walia,who contested from Malviya Nagar constituency,is trailing by 3000 votes.
BJP was leading in Hari Nagar,Krishna Nagar and Babarpur constituencies,AAP on the other hand was leading in first round in Kasturba Nagar constituency while Congress was ahead in Gandhi Nagar constituency.
Huge cheer was witnessed at AAP office as party registered first lead in news as the counting of votes for Delhi Assembly Polls began on Sunday morning. A TV has been put up at the courtyard office of Aam Aadmi Party.
Being considered to be the semi-finals ahead of the Lok Sabha elections next year,the Assembly polls in Delhi have been a virtual triangular contest with new entrant Aam Aadmi Party (AAP) making it difficult for the Congress and the Bharatiya Janata Party (BJP).
Seeking a record fourth term as Delhi Chief Minister,Sheila Dikshit appears to be facing the toughest battle in the national capital with the emergence of Arvind Kejriwal's AAP upsetting the calculations of both the Congress and the BJP.
Harsh Vardhan,who contested from Krishna Nagar constituency,is BJP's Chief Ministerial candidate.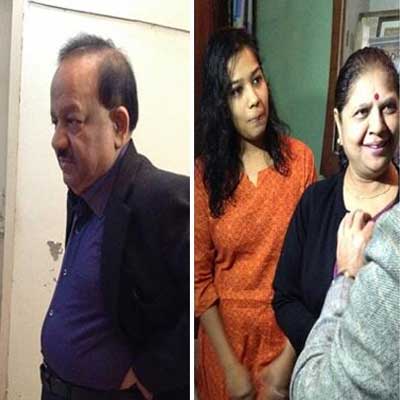 On Wednesday,Delhi's turnout was 65.86 per cent. While the turnout of male voters was recorded at 65.48 per cent,that of the females was 64.68 per cent.
!function(d,s,id){var js,fjs=d.getElementsByTagName(s)[0,p=/^http:/.test(d.location)?'http':'https';if(!d.getElementById(id)){js=d.createElement(s);js.id=id;js.src=p+"://platform.twitter.com/widgets.js";fjs.parentNode.insertBefore(js,fjs);}}(document,"script","twitter-wjs");
For all the latest Politics News, download Indian Express App