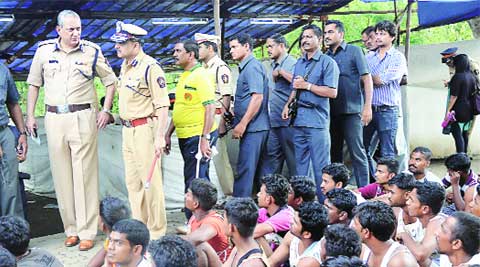 City Police Commissioner Rakesh Maria on Wednesday announced that the crime branch would probe into the deaths of five candidates during the police recruitment drive and said he took full responsibility for the unfortunate deaths.
"As for the deaths, it is truly unfortunate and saddening and if anyone is to blame, then as the police commissioner, the responsibility would be mine, " Maria said at a press conference called at Ghatkopar, where the recruitment drive is in progress.
With the fifth candidate dying at a Mulund hospital Tuesday night, Maria said the five-kilometre race for the remaining candidates had been deferred from June 21 to June 28, with morning schedules shifted to evening, when the sun is low.
The police have come in for strong criticism for conducting the five-kilometre race during days when temperature was high.
Explaining the urgency behind the recruitment drive, Maria emphasized the shortage of manpower during police bandobast and other surveillance duties. He said the drive had to be completed this month since with the onset of monsoon, the department would have had to push it for another year.
Like every year, over a lakh candidates appeared for over 2,000 vacancies in Mumbai police this year. Candidates are expected to take five types of physical tests of 20 marks each, with the five-km run as the final test. While all candidates cleared all the other physical tests, five of them died either while running or after finishing the five-km race.
According to Maria, at least 23 candidates were identified on the track Wednesday with either low or high blood pressure. "A team of doctors from various government hospitals will be deputed to monitor and do a check-up of the candidates," the city police chief said.
"The possible reason of these five deaths could be that some of the candidates were unfit for physical tests despite which they were participating in it," Maria said, adding that a few candidates were having fever but still were determined to run as they came from poor families.
mumbai.newsline@expressindia.com
For all the latest Mumbai News, download Indian Express App