Written by Manas Mitul | Mumbai |
Updated: November 5, 2016 11:08:22 am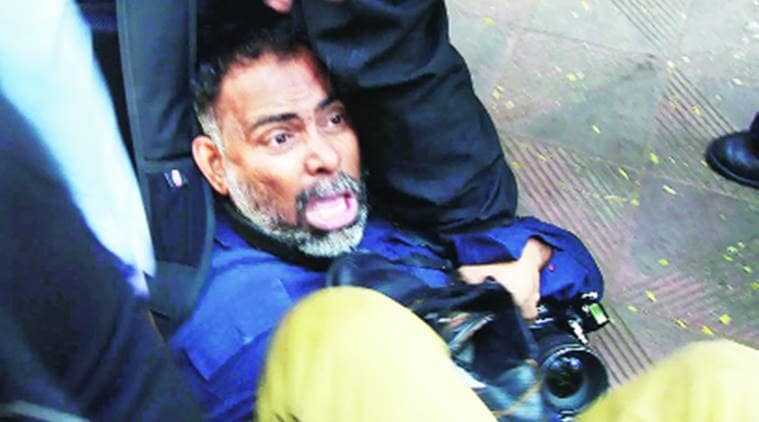 THREE PHOTOJOURNALISTS were assaulted allegedly by private security guards employed by the Tata Group after a scuffle erupted outside the company's headquarters at Bombay House in Fort on Friday. The incident took place when journalists had gathered outside Bombay House to cover a board meeting of Indian Hotels, a Tata Group company. According to sources, the crowd jostled to take Cyrus Mistry's photograph when the ousted chairman of Tata Group arrived. In the chaos, one of Mistry's personal security guards was allegedly shoved, which led to the guards assaulting the crowd.
Watch What Else Is Making News
Among those injured are Hindustan Times' Arijit Sen, The Times of India's S L Shantakumar and Atul Kamble from Mid-Day. The injured photojournalists were taken to St George's Hospital in Fort for treatment. "There were six to seven guards who assaulted us. They were jumping and hitting us as if they wanted to kill us. I have never seen security guards like these. They were ferocious and behaved like hooligans." Sen, one of the injured photojournalists, told The Indian Express.
On its part, the Tata Group condemned the incident. "We apologise to those injured in the incident. Bombay House has seen huge crowds before, but nothing like this has ever happened. We will ensure that such incidents never occur," Tata Sons spokesperson Debasis Ray
told The Indian Express over the phone.
However, Rajneesh Kakade, Secretary, Bombay News Photographers' Association (BNPA), rejected Tata Group's apology and demanded strict action against the guards involved in the incident. "We are demanding the arrest of those security guards. The police have taken the injured photographers' statements. We don't want their apology. They should discontinue the contract of the security service," he said.
Kakade, who too was present at St George's, said equipment was damaged in the scuffle as well.
The Mumbai Press Club also condemned the attack. "The Mumbai Press Club does not expect a corporate house like the Tatas to indulge in violent practices against media persons, and demands explanation from the corporate authorities who allowed security personnel to take this extreme step," a statement by the Mumbai Press Club said.
A case has been registered against the security guards at MRA Marg police station and the police are probing the matter.
For all the latest Mumbai News, download Indian Express App