Mumbai |
Published: March 27, 2014 6:03:24 am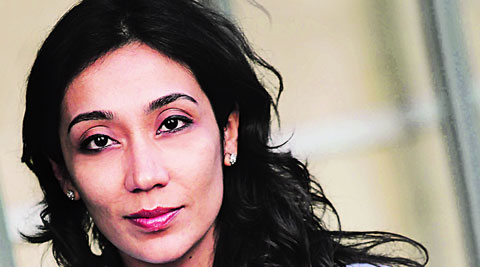 No, Brazilians haven't stomped the Football World Cup out of their home country already. Neither has Barack Obama announced: "Annex all you want Putin, I'm looking after my own home." The world's knickers are in a knot for the most unforeseeable reason: hip hop singer Kanye West and his reality star girlfriend Kim Kardashian have  landed themselves a US Vogue cover.
The few days after the April 2014 cover was disclosed, a social media and newsprint backlash ensued. Each article condemned Anna Wintour — the worshipped editor of the US Vogue — and her choice of cover stars. "RIP Vogue. December 1892-April 2014. Hell hath frozen over, darlings — Kim Kardashian is on the cover of Vogue", read one update. "From a Ray J sextape to the cover of Vogue, Kim Kardashian must have God's direct line. I swear", wrote another. Actress Sarah Michelle Gellar wrote she's cancelling her Vogue subscription and goaded, "Who's with me?" A few dozen people were with her. Actors James Franco and Seth Rogen spoofed the cover.
This couple, collectively dubbed 'Kimye', has long eclipsed Brad Pitt and Angelina Jolie ('Brangelina', natch) as the most papped couple in Hollywood (and by extension, the rest of the world). West's many albums are regular best-sellers and he has won 21 Grammys, among other awards. He is outspoken, controversial and flamboyant. Kardashian came into the spotlight as Paris Hilton's friend. In 2007, a sex tape with her then boyfriend Ray J was leaked. Her family was later offered a reality show, Keeping Up with The Kardashians, the popularity of which led to various spin-offs. Kardashian is the highest paid reality star in the history of television.
Rumours say West bought Kardashian the cover as a wedding gift. And that he begged Wintour for one. But Wintour's elegant defensive editor's note reads she's happy "being able to feature those who define culture at any given moment, who stir things up. Kim, through her strength of character, has created a place for  herself in the glare of the world's  spotlight."
For the American public, Kimye deserve to be on the cover of tabloids, not elite fashion magazines. Kardashian has used nothing but her celebrity to push herself into the limelight. She is the face of all that is fake, shallow and crass with American culture. And the cover of Vogue? Something's very wrong with the world.
It arguably is. Many 'isms' go out of the window when big bucks or insane popularity get in the door. Kim has 20 million followers, versus West's 10 million and US Vogue's 3 million. The Australian avers that's enough to please advertisers.
Kardashian's maternity fashion quotient was compared with Kate Middleton (the lah-di-dah duchess admitted she herself was a fan).
Kardashian is launching perfume, kids wear and her own fashion line. This column itself lauded her brave sartorial choices, never mind the Ricardo Tisci sofa dress at the Met ball. (indianexpress.com/article/cities/mumbai/best-bump-forward-2/).
Who can forget Tom Ford's scandalous comment when he saw Victoria Beckham in one of his frocks at a football match? He has supposedly stated: "Someone get my dress off that woman". But Beckham now is a self-taught and well-respected fashion designer herself, making pots of money with her many franchises.
She's also paved the way for the likes of Kardashian: someone with remote talent and great eyeball-seeking skills. The Kimye Vogue cover proves two things: aspirations can get you anywhere, and secondly, there is such a thing as being destiny's child.
namratanow@gmail.com
For all the latest Mumbai News, download Indian Express App