Some AAP candidates you may not know as yet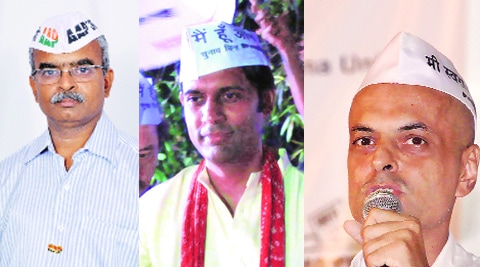 Sundar Balakrishnan, Satish Jain and Phiroze Palkhivala.
SUNDAR BALAKRISHNAN,
Mumbai South Central
Former senior corporate executive
Main rivals:
Eknath Gaikwad (Congress),
Rahul Shewale (Shiv Sena)
It is difficult to identify 53-year-old Sundar Balakrishnan, Aam Aadmi Party's (AAP) candidate for the Mumbai south central constituency, in the small group of volunteers campaigning for the party door-to-door in Asia's largest slum sprawl of Dharavi. He is not wearing any special politician-like clothes and does not have any personal assistants trailing him.
Five years ago when the air was thick with the election buzz of 2009, and Balakirshnan was weighing his options as a voter, he had no idea that he would be projecting himself as an option for the public in the 2014 elections. He was comfortable with life, living with his family in Chembur's Chedda Nagar area, and having a long stable corporate career.
"I only had one thing in mind. That when I am 50, I will give up corporate life and do something else, something to help people," said Balakrishnan, clad in a checkered shirt and a trouser, and a Gandhi topi, ubiquitous among all AAP volunteers.
"In 2011, I joined India Against Corruption. I was myself very disgusted with the corruption around us. We have done a lot of work to help the poor in the Chembur area ever since," he added.
Balakrishnan, who has a masters' degree in financial management from the Narsee Monjee Institute of Management Studies at Vile Parle, was working as the chief executive at the Sca group of companies in the logistics and shipping industry. After a 30-year-long stint in management, in April 2013 he resigned from his cushy job and decided to work for AAP.
"I have my savings to sustain myself and my family. I have a house in Chembur that I have given on rent, so that brings me regular income. My wife is working with IDBI and my son is in the final year of engineering," said Balakrishnan, justifying how he can now devote all his time to politics.
He has fierce competition in this constituency, which comprises Chembur, Sion, Dharavi, Dadar, Matunga, Mahim and Prabhadevi. He is up against Congress' Eknath Gaikwad, a two-time MP, and Shiv Sena's Rahul Shewale, who has vast experience in local politics and has been the chairman of theBMC standing committee for four years, and Aditya Shirodkar of MNS.
However, Balakrishnan does not consider the competition to be too daunting. "You go to Shewale's ward. He has done a lot of work such a beautifying the area by putting up arches. But none of that work was required. He has not solved people's problems. He doesn't have a people connect. Gaikwad also has no people connect. And Shirodkar is new. He has done nothing so far to gain people's confidence," he said. (Manasi Phadke)
SATISH JAIN,
Mumbai North
Former fund manager
Main rivals:  Sanjay Nirupam (Congress), Gopal Shetty (BJP)
"Bhrashtachaar pe jhaadu maar," shouts 29-year-old IT professional Pravin Lotankar while handing out …continued »