Lucknow |
Updated: February 6, 2014 2:42:34 pm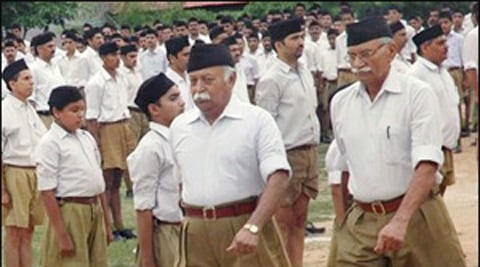 The Rashtriya Swayamsevak Sangh (RSS) has taken control of the preparations for Narendra Modi's western UP rally to be held in Meerut on February 2. Not only for the BJP, the rally has become a matter of prestige also for the RSS given that western UP is known as a Sangh Parivar stronghold.
The rally is scheduled at Shatabdi Nagar ground where the RSS holds its shakhas and other programmes. The rally ground is opposite RSS institute 'Madhav Kunj', which is known as the power centre of both RSS and BJP in the region. Sources said three meetings over rally preparations have already been held so far at Madhav Kunj.
Sources also said there are more than 1,000 such educational institutions of the RSS in western UP running under Vidya Bharti— a wing of RSS. The teachers and other staff of these institutions are also reportedly engaged in making appeal to the public to attend the rally. Akhil Bharatiya Vidhyarthi Parishad, the RSS student wing, is also engaged in mobilising youths for the rally, the sources added.
However, western UP's organisation secretary of Vidya Bharti, Khayali Ram claimed, "We are not directly involved in the rally preparations. But there is no restriction on any person helping in the rally because both BJP and Vidya Bharti are wings of RSS."
RSS recently engaged ABVP's national co-organisation secretary Sunil Bansal to assist BJP's state in-charge Amit Shah in poll preparations. Bansal will be reaching Meerut on January 29 to guide the BJP in rally preparations.
BJP state spokesperson Chandra Mohan said the RSS has provided necessary guidance to the BJP time to time.
The BJP currently has one Lok Sabha member from western UP that has 14 Lok Sabha seats. The party hopes to better its tally this time due to polarisation of Hindu votes after the Muzaffarnagar riots.
For all the latest Mumbai News, download Indian Express App