No cemetery in area, Vikhroli Muslims express anger at Patkar rally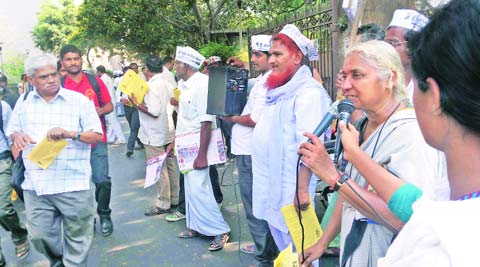 Medha Patkar at a roadshow in Vikhroli on Wednesday. (Express photo)
Aamir Khan & Tanushri Srivastava
AAP candidate from Mumbai North-East constituency Medha Patkar faced ire of Muslims and workers during her campaign on Wednesday. While Muslims from Vikhroli said the absence of a cemetery in the area was their biggest concern, workers pitched their issues related to wages, threatening to boycott the polls.
"We (people of the community) have to travel to Ghatkopar to bury our dead, and it takes over an hour for our procession to reach the cemetery," said 28-year-old Rehmat Ali, who runs a sweetmeat shop in the area.
When asked whether any developmental work had been undertaken by politicians for the upliftment of the community, he said, "Our grievances have only fallen on deaf ears and no leader has taken initiative to work towards the development of our community. There is one cemetery in Sonapur (Bhandup), but none in our locality. There has only been sporadic developmental work in the area."
Shaikh Amjad (55), who has been living in the area for the past 40 years, joined AAP after the community faced "indifference" at the hands of all political parties. "There is a considerably sizeable population of Muslims in the area. In the last 40 years that I have been here, none of the parties did anything for the welfare of Muslims. There is a barren patch of land available in the vicinity, but no leader took the initiative to convert it into a cemetery," alleged Amjad.
On being asked about the problems faced by the community, another Vikhroli-resident, Mohammed Nazir (51), said significant issues pertaining to the community had always been ignored by those sitting at the helm of political affairs. "Not having a cemetery is one among our many issues. We hope that the new leader takes our problems seriously."
While Muslims pitched their grievances, the workers of Godrej Industrial Unit expressed anger over politicians being inaccessible. "When we asked the leaders of AAP, NCP and BJP to meet us, they said they were busy. There are about 2,700 workers in the unit, of which 1,900 belong to our union. Given that our company is at par with the others as a class I company, we are paid according to the Minimum Wages Act. The management is paid lucratively," said Gurunath Bhovad, the president of the workers' union, while pointing out at the payslip of one of the workers.
Ashok Sharma, who has a family of four to feed and has been working with the unit for the past 23 years, said he was paid a "paltry sum" of a little over Rs 5,000.
"We have decided to boycott the elections this time as no one is willing to pay heed to our grievances," said Bhovad, along with his fellow workers and members of the union, in unison.
"The workers of Godrej (unit) told me about their issues. They (Godrej management) have …continued »