Narayan Rane, supporters boycott MPCC meeting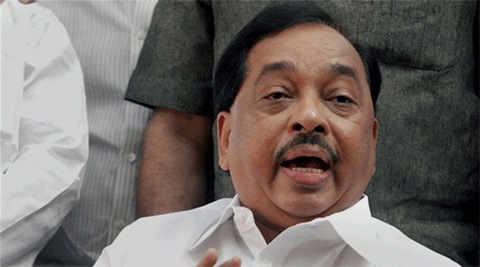 The boycott comes two days after the district adopted a resolution demanding appointment of senior party leader Narayan Rane as Maharashtra's chief minister.
Even as the Congress looks to rebuild in Maharashtra after the crushing defeat in Lok Sabha elections, it is faced with infighting and rebellion in the state unit.
This came to the fore Thursday when the party's Sindhudurg district unit openly boycotted a meeting convened by the Maharashtra Pradesh Congress Committee (MPCC) to take stock of the party's worst-ever Lok Sabha performance.
"This would be the first time when an entire district unit has openly defied the party's orders," said a senior Congress leader.
The boycott comes two days after the district adopted a resolution demanding appointment of senior party leader Narayan Rane as Maharashtra's chief minister.
Ironically, even Rane, who is Sindhudurg's Guardian Minister, skipped the meet despite being in Mumbai. The meeting took place at the party headquarters in Dadar. His son Nilesh, who failed to retain the Sindhudurg Lok Sabha seat, also remained absent.
However, later in the evening, Rane attended a review meeting of Congress ministers at Chief Minister Prithviraj Chavan's residence in South Mumbai.
Rane has offered to resign from his ministerial posts taking "moral responsibility" for the party's poor show in Sindhudurg, but Chavan is yet to accept his resignation. There is a popular perception within the party that Rane's resignation was an act to pressurise Chavan into stepping down from the top post. The Rane family has, however, denied this allegation.
On Wednesday, Rane had created a flutter by skipping the cabinet meet even as the family said this was "purely for prior family commitments".
Taking strong objection to the rebellion, a section within the Congress has demanded dismissal of the Sindhudurg district unit.
State party chief Manikrao Thakre, however, did not appear to have bought this demand. He said office-bearers of the district unit had sought another meeting. "The meeting will be held later," said Thakre.
The district unit was originally allotted time on Wednesday.
Thakre, however, adopted a sterner stance on the resolution to make Rane the CM. "There is no tradition to adopt such resolutions at the district or state level. It is for the party's central leadership to decide on any realignment in the state leadership or organisation," he said.
Partymen seek rethink on alliance with NCP
Complaints regarding "highhandedness by party ministers" and "lack of cooperation from local leaders of ally Nationalist Congress Party (NCP)" were common during the review meetings held for other districts. A source said a common demand was to rethink on alliance with the NCP. Partymen and Lok Sabha candidates also complained that during the election campaign some ministers remained confined to their own Assembly segments but still most of them weren't able to muster a lead for UPA candidates in these segments. Anger was also directed against CM Prithviraj Chavan for slow decision making and lack of political engagement. Delays in deciding on the controversial local body tax and Maratha reservation issue were blamed for the party's poor performance. The state party leadership also took the hit for failing to "market" policies implemented by the state and the central government effectively. On Thursday, Thakre and Chavan took stock of the election performance in Nanded, Hingoli, Latur, Aurangabad, Jalna, Nandurbar and Dhule.
Former CM Ashok Chavan projects himself
Former chief minister Ashok Chavan, who was present during the review for Nanded that he won, reportedly sold his track record. A source said he projected himself as being ready to take up any responsibility assigned by the party. While there is a buzz that Ashok Chavan had shared his concerns regarding the state leadership with the party high command in Delhi two days ago, Chavan desisted from targetting the CM directly during the meeting. When contacted, he, however, said certain "lingering administrative and political decisions needed to be taken on priority" to revive party's fortunes ahead of the state polls. He later called upon Vidhan Sabha speaker Dilip Walse Patil to tender his resignation as an MLA.