Mumbai |
Updated: February 6, 2014 2:50:09 pm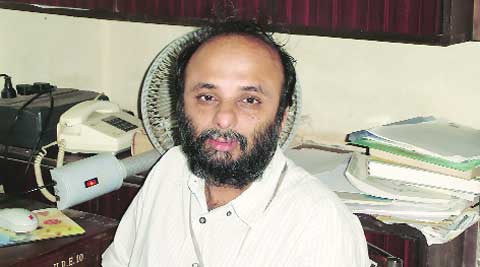 Following a 10-hour meeting on Saturday, the Management Council (MC) of Mumbai University (MU) finally recommended that the suspension of Professor Neeraj Hatekar be revoked in the interest of students. The Vice-Chancellor of MU has also set up a one-member fact-finding committee to look into the 16 issues raised by Hatekar.
According to an official statement issued by MU on Sunday, the varsity authorities put forth the facts and documentary evidence before the council during the meeting. After going through the facts, the MC members were of the opinion that there was no truth in Hatekar's allegations.
The press release states: "The MC during the meeting also resolved that the decision taken on December 20 by the council members and action by V-C to suspend him (Hatekar) was appropriate and according to the rule. However, taking into consideration the larger interest of the university and welfare of student committee, the MC recommended that the suspension of Hatekar be revoked."
According the statement, the V-C will now act upon the resolution taken by the MC. "The MC also recommended that a departmental inquiry should be initiated against Hatekar by former High Court judge D G deshpande. Hatekar should be given an opportunity to present his views and provided natural justice and the inquiry must be completed in a time-bound manner," the release said.
Ever since Hatekar's suspension on January 4, students and faculty members have been staging protests. However, an MC meeting to discuss the issue was held only after Governor K Sankaranarayanan asked the V-C on Thursday to resolve the issue amicably and at the earliest.
During a meeting of the varsity's MC on December 20, too, members took up the issue of action against Hatekar, though it was not in the meeting agenda. One of the members of the MC, Professor Madhu Paranjape, opposed the decision to suspend Hatekar. However, the decision to suspend Hatekar was passed by the V-C.
Students and a few faculty members, however, are going on a day-long hunger strike. "Even if Dr Hatekar's suspension is revoked, university administration has not responded to students' demands. They have also called his allegations false. We are tired of mismanagement by the administration. Students are going ahead with the one-day hunger strike outside Kalina campus on Monday," said a student.
mumbai.newsline@expressindia.com
For all the latest Mumbai News, download Indian Express App