Narendra Modi vs Muslim is Congress' Mumbai plank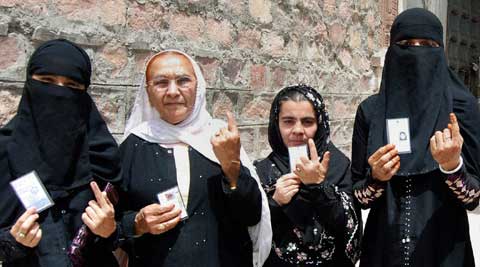 Congress activists have been telling voters that "a vote for the AAP or the Samajwadi Party will indirectly mean supporting Modi." (PTI File Photo)
A bitter tussle is under way in Mumbai with the BJP playing up Narendra Modi's projection as prime minister and the Congress seeking to exploit the fear this has ostensibly struck among Muslims. The polls to all six seats are centred around Modi with both the Congress and the BJP seeking to consolidate their constituents on the Modi theme.
Campaigning door-to-door in Muslim-dominated areas, Congress activists have been telling voters that "a vote for the AAP or the Samajwadi Party will indirectly mean supporting Modi." Mohalla meetings called by local Congress leaders in these areas, too, have been emphasising the need to stick to the tradition of voting decisively for the Congress.
Mumbai has 17 lakh voters, the distribution ranging between 2 lakh and 4.5 lakh per seat. Munaff Hakim, state Minorities Welfare Board chairman, says, "I believe Muslims will consolidate and more than 90 per cent. The population of Muslims in Mumbai in these six constituencies vary between 10 and 15 per cent. The highest Muslim concentration is in Mumbai North Central and Mumbai South Central, the lowest in Mumbai North."
Hussain Dalwai, Congress MP in the Rajya Sabha, has a higher estimate for the Muslim population. "Muslims constitute between 16 and 20 per cent of the population in some seats and will be very significant in deciding the poll outcome. They have always preferred Congress, and this time we sense there is a clear understanding that any deviation from the Congress would help Modi," he said.
He cited an example: "A cousin of mine who works among Muslim women was surprised when they reassured her that helping the AAP or the SP would mean directly promoting Modi."
CM Prithviraj Chavan agrees, "Muslims are not going to waste their vote. They will vote for Congress and against Modi."
"The Congress is trying to polarise the votes on communal grounds but an 11 per cent increase in the voter count will help the Shiv Sena-BJP," said leader of the opposition in the legislative council Vinod Tawde, In 2009, the Congress won five seats and the NCP the sixth, shutting out the Shiv Sena-BJP. The six seats vote on April 24. The Congress believes the Muslim vote will be critical in four seats — Mumbai North Central, Mumbai Northwest, Mumbai South Central and Mumbai South.
NCP poll managers too concede the Modi factor is at play. "In Mumbai North where the MP is Sanjay Nirupam and Mumbai Northeast where Sanjay Dina Patil (NCP) is MP, it is difficult to negate the Modi factor," an insider said.
Among the four seats where the Congress hopes to effectively use a fear of Modi, Mumbai North Central has a strong candidate in …continued »