MNS candidates unlikely to play Marathi manoos card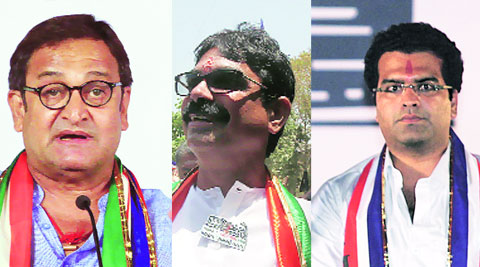 (L-R) Mahesh Manjrekar, Bala Nandgaonkar & Aditya Shirodkar.
MNS candidate from Mumbai South Central parliamentary constituency Aditya Shirodkar talks about the urgent need of youth in politics and corruption-free governance as he campaigns. Similarly, MNS MLA and candidate from Mumbai South Bala Nandgaonkar talks of women's safety and the need for cluster redevelopment project in addition to criticising sitting Congress MP Milind Deora for failing to address larger issues in the area. From North West, MNS candidate Mahesh Manjrekar points at the non-accessibility of sitting Congress MP Gurudas Kamat while promising to set up stores that provide free medicines.
Even as MNS leaders maintain that the "pro-Marathi" and "sons-of-soil" plank — that gave the party unprecedented vote share in 2009 — remains the base of its strategy, its candidates have kept these in the background. They have sensed that the issue is unlikely to have the same connect with voters now.
While MNS candidates garnered an average of 18-22 per cent of the vote share from six LS constituencies of Mumbai in 2009, many believe the party may not manage to attract the same numbers this time.
"In 2009, Raj Thackeray raised an emotional pitch about the injustice being done to the locals at the behest of so-called outsiders. MNS spoke of a blueprint for the state's development and presented itself as a credible alternative to other parties. Many traditional Sena voters bought this idea and voted for the MNS. But five years later, issues of the Marathi manoos largely remain unresolved. Its current strategy, or the lack of it, is unfocussed. Thackeray raised the toll collection issue, but could not bring it to a logical end. MNS is now being perceived as a spoiler and its impact will be limited this time," said a senior BJP leader.
While Congress benefited from the Marathi vote-split in 2009 and was hopeful of a repeat victory in all six seats, Thackeray's tacit understanding with the BJP and the decision to not field candidates against the party in three seats further curtailed its prospects. Asked if MNS support to Narendra Modi for PM will confuse voters between Sena and MNS, BJP leader Vinod Tawde said, "When a company is directly selling its product, why will someone buy it from a franchise?"
An MNS corporator from Mumbai said the party is focusing more on Assembly and corporator polls. "The party does not have money for fighting all LS seats and leaders have accepted that the focus needs to be on winning Assembly seats. The understanding with BJP is a step in that direction," he said. The MNS had won all seven BMC seats in Dadar-Mahim areas in civic elections of 2012, denting Sena's Marathi vote bank.
Political analyst Pratap Asbe said the issue of Marathi asmita is hidden in the MNS campaign strategy, just like Hindutva strategy is hidden in that of the BJP. "The overall impact of the party …continued »