Mind your money, poll panel is watching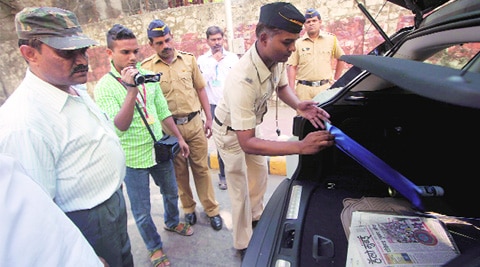 A flying squad in action at Dadar's Pradhadevi last week. (Kevin Dsouza)
Near Byculla flyover around 3.30 pm Monday, passers-by curiously look on as police personnel search a number of cars they have stopped even as a camera-person is carefully videographing the entire process.
This is how 108 flying squads spread across 36 Assembly constituencies in the city have been operating since March 20 to check violations of model election code of conduct.
Apart from flying squads, three check-points and few video-surveillance units in each Assembly constituency monitor activities of all candidates contesting the Lok Sabha elections. The Election Commission has improved its surveillance this year by asking each squad to video-record all its search processes and political rallies.
On any particular day, three flying squads working on eight-hour-shifts search around 70 vehicles, focusing on a single Assembly seat for violations. The Newsline trailed one such flying squad for three hours on Monday, less than 10 days before the city goes to polls.
For "184 Byculla" constituency's flying squad – comprising a control officer, camera-person and three constables – the first detection came after almost a month on Sunday after they seized Rs 10 lakh from a Skoda car. "We have registered an FIR with the police and they will further investigate the case. Since MPs are not allowed to withdraw more than Rs 50,000 in a day from their account for campaigning, cars are being searched for cash, arms and liquor," said Vandana Suryavanshi, assistant returning officer, Byculla.
So far, the city and suburban collectors say, Rs 14.56 lakh in cash and alcohol worth  Rs 19.66 lakh has been confiscated.
Nagesh Pawar, a control officer, said, "While we felt disappointed at the end of every day that we have not laid our hands on anything, we also felt happy that hopefully no one is violating code of conduct. This amount seized is our first confiscation."
A soft-spoken Pawar requests each driver, "Please co-operate, this is a routine check of flying squad", following which a camera-man records the car search. "I work with the dairy department's purchase unit in Aarey Colony. Election duty is a different experience for me. We have to be extra careful when a car belonging to a political party is searched," he said.
Dhammaratna Linghate, deployed at one of the check points, says, "Sometimes, vehicles speed away when they spot us. We then alert the flying squad to chase them. Whenever we are suspicious about a huge sum of money or liquor that a car has, we immediately detain them."
At 4.30 pm, after an hour-long search of a number of cars near Byculla's flyover, the flying squad is on the move again. It enters narrow lanes of Madanpura to play another role. Control officer Shrikant Bhosle, who otherwise works as a sales tax officer and is currently on election duty, gets down on the road and reads from a pamphlet …continued »