In saffron stronghold, ex-Sainik has odds stacked against him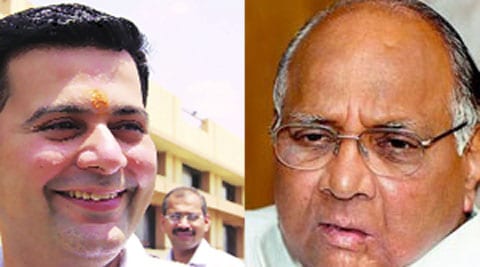 Paranjape shared the stage with Pawar and launched a diatribe against the saffron party, saying it was not "the Sena of yore". (Express archive)
It was an embarrassing moment for the Shiv Sena to see its elected Member of Parliament Anand Paranjape walk up to National Congress Party (NCP) chief Sharad Pawar at a conference in January 2012. Paranjape shared the stage with Pawar and launched a diatribe against the saffron party, saying it was not "the Sena of yore".
The sympathy wave after his father Prakash Paranjape's death in 2008 helped the incumbent MP win from the Kalyan Lok Sabha constituency in 2009, although marginally with 24,000 votes. With his defection from the party to contest on an NCP ticket in a constituency traditionally considered a Sena-BJP stronghold, it might prove an uphill task for Paranjape this time around.
The Sena has pitched 26-year-old Dr Shrikant Eknath Shinde against Paranjape. Shinde, son of Sena strongman and MLA Eknath Shinde, will take on the rebel MP in the Marathi-heartland of Kalyan-Dombivali-Ambernath townships.
The constituency includes two municipal corporations, Kalyan-Dombivali and Ulhasnagar, and the Ambernath municipal council. It has a diverse voter profile of the Marathi-speaking Agri community, Brahmins, Muslims, south Indians, Sindhis and north Indians. Paranjape — popularly knows as 'Murphy baby' — is a favourite among the Brahmins, mostly residing in the Dombivali area.
In the erstwhile Thane Lok Sabha seat before the 2009 delimitation, Paranjape's win was considered to be the outcome of work done by his father, who had represented Thane since 1996. "His father enjoyed a stature of a political leader, of being a social activist. Several incomplete works were handed over to Anand after his father's death. But after five years in office, the work remains to be done," said a senior Sena leader.
Over the past decade, this constituency has seen a dramatic mix in the voting pattern, with a large chunk of land thrown open for development and people migrating from other regions. Hundreds of new housing projects were launched in Kalyan and Dombivali, attracting buyers to invest in 'affordable housing projects'. "However, the amenities that should have followed were not provided," said Sandeep Chandsarkar, 53, a resident of Dombivali.
According to Chandsarkar, in a constituency as big as Kalyan, with 19 lakh registered voters, it is common that some region would be ignored. "It is a tough job for the MP to focus on micro issues. However, Kalyan-Dombivali have always got a raw deal," he said.
For instance, this region remains parched, with 200 million litres per day (MLD) from its primary source, Barvi dam, being diverted to Navi Mumbai. "Navi Mumbai has its own water source in Morbe Dam, but water still gets diverted from Barvi. There has been no assertion from our leaders, and others have benefited out of this at the cost of residents …continued »