In Ghatkopar, Gujaratis turn out in large numbers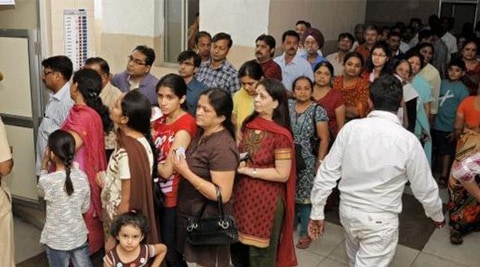 Voters in the Gujarati dominated areas of Ghatkopar east of the Mumbai North East constituency, came out in large numbers. (PTI)
-MUMBAI NORTH EAST-
With a strong anti-incumbency sentiment in mind, voters in the Gujarati dominated areas of Ghatkopar east of the Mumbai North East constituency, came out in large numbers, defying the scorching heat to vote for a "strong leader". At three prominent polling centres — Garodia Nagar, Tilak Road and 60Feet Road — the voting percentage was 55 per cent, 65 per cent and 63 per cent respectively by 5pm, indicating a high turnout, said polling authorities.
Priyanka Gorasia, 21, a first time voter said, "I have had numerous debates with my friends on who to vote for. I also recently visited Ahmedabad and realised that Modi has indeed done a good job." Ria Gokhar, 22, another first time voter, said, "Corruption, inflation and anti-incumbency are the key factors that have influenced me as a voter."
Sharing a similar sentiment, voter Rajesh Shah (57), said, "I am voting against corruption, poor leadership and inflation that has caused widespread suffering to the citizens of this country. I will mince no word in saying that Modi has my vote."
From 7am, a steady line of senior citizens and married couples was observed at Garodia International School in Garodia Nagar which had nine polling booths and a total of 9,877 registered voters. According to a polling officer at the centre, 70 per cent of the early morning voters were senior citizens and first time young voters were found missing.
At Ramji Assar Vidyalaya on M.G. Road in Ghatkopar east, polling officers were amazed at the morning turnout. "Its an extremely high turnout as compared to past elections. Unlike previous elections where peak hours were between 3 pm and 5 pm, we are witnessing a peak hour between 9 pm and 11 pm itself," said a presiding officer at the booth. (By Priyal Dave)
In slums, women take the lead
The large slum belt comprising Mankhurd-Mandala and Shivaji Nagar-Bainganwadi areas saw a larger voter turnout than usual, more so amongst women. An election department official at the Shivaji Nagar Municipal School no 2 polling station said the voter turnout here has been higher than last time especially amongst women.
Anwari Mallik, 50, who could not vote because her name was missing from the polls said more women had come out to vote because they could identify with a candidate for the first time in Aam Aadmi Party's Medha Patkar. While these backward slum belts, around the periphery of the Deonar dumping ground, have traditionally voted for the Congress-NCP candidate, many of them said that they saw a credible alternative in Patkar.
Patkar alleged that NCP workers of candidate Sanjay Dina Patil had intimidated voters Wednesday night asking them to vote for the "clock" only. "They were distributing money …continued »