'I don't have agenda of asking for votes from a particular community'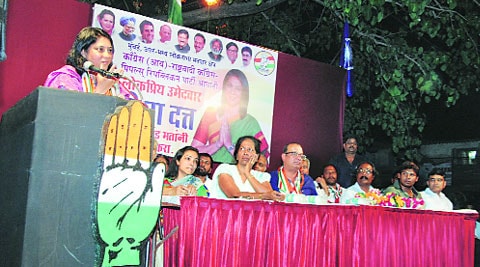 Priya Dutt on Sunday.
In a conversation with Anjali Lukose, sitting MP from Mumbai North Central constituency Priya Dutt talks about her agenda ahead of the Lok Sabha elections, her opponents, and tackling the 'hype' over her being 'inaccessible'.
What is your main agenda for the constituency? Why should the majority of people in your constituency vote for you this time?
As nearly 60 per cent of my constituency comprise slums, I'll be working on better housing facility and sanitation for them and better infrastructure for everyone. There are loopholes such as 70:30 consent and the way agreements are made, which is not understood properly by the tenants, resulting in major problems. We will look at a new housing policy and the need to make SRA (Slum Rehabilitation Authority scheme) watertight. I have always pushed for the hawkers' policy and there is a need to regularise them. I have never encouraged slums, but firmly believe slums that have been around for long need to be regularised.
Who is your biggest competition among SP's Farhan Azmi, BJP's Poonam Mahajan and AAP's Phiroze Palkhivala?
I think it is mostly a Congress-BJP fight. As for Farhan Azmi taking away Muslim votes, I have never looked at it like that. People know better than to vote for people asking for votes only because they are Muslims. And why is this so different from my last election? I'm not worried as I don't have the agenda of asking for votes from a particular community.
Opponents criticise that there is no work done, but what is their agenda? I read somewhere that Farhan Azmi said he will give away one lakh free chappals and provide free education. He should definitely tell me how he'll do it. Only when you are an MP, you know what pressures you face, and that you have to follow a system. It's not an easy job. I don't dismiss anyone either. Instead, I'd rather focus on what I have done.
There is a perception that you are unapproachable and inaccessible. Your comments?
I should take out my calendar. You'll see how many activities in my constituency I'm involved in. In a constituency of 20-30 lakh people, it is impossible to reach out to everyone. As an MP, I have to be in Delhi for six months. The rest of the time, I'm in my office from 10 am to 2 pm for people to meet me and I'm involved in activities such as medical camps, disability camps and computer training centres. I interact and connect with people through my work. Opponents create this hype that I'm inaccessible or unapproachable. They say this because they have nothing else against me. They get a few people to say I'm not visible in the constituency and create the hype. I'm confident about my work and people in my constituency have seen that.
People in Garib Nagar, whom your father fought for, are upset with you. They …continued »