How Mumbai Voted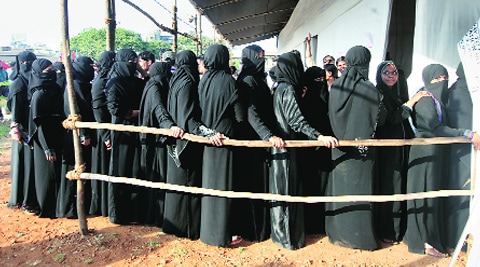 Muslim women at a polling booth in Dharavi. (Prashant Nadkar)
-MUMBAI SOUTH-
Issues pertaining to cluster development, "a corruption-free and non-communal government" were on the priority list of voters in one of the oldest markets of Mumbai South's Bhendi Bazaar on Thursday. Despite a large number of people complaining about their names missing from the voters' list, the area saw a decent turnout later in the day.
"I voted for change and a government that thinks about betterment of society," said first- time voter 19-year old Ismail Shaikh. Shaikh's sister Jahanara, 23, who was optimistic about a large voters' turnout this election, felt people have become more socially aware. "If we vote, we have a right to complain. By using the Right to Information Act, we can claim our right and by electing an able government, which can try keeping the builders' involvement minimal," she said.
Ashok, 48, and Akshita, 39, Jaitapkar, on the other hand, said residents dissatisfied with the current government's "inept show of governance" in the vicinity. "The government should think about looking at elementary issues like phone connections. We recently went to get our MTNL line transferred to our new flat but the officials refused saying notorious elements destroy them. Leaders should think about solving such issues," said Ashok.
Septugenarian A F Kothawala felt that the there "several complications" with state government's cluster development policy. "The government we vote into power should clear such obstacles," he said.
Upmarket SoBo came out, for once
(Anjali Lukose)
Cars kept lining up at the entrances of polling centres in Malabar Hill area blocking traffic outside polling centres in Malabar Hill as chauffeurs queued up to drop off and pick up voters in the Mumbai South constituency. Until 6 pm, the three polling centres Gopi Birla Memorial Public School, Mangal Punj at Malabar Hill and Geeta Gurh near Metro cinema surveyed, the voter turnouts were around 51.01 per cent.
In Malabar Hill, voters seemed eager to vote against the incumbent government, whom they blamed for corruption and inflation. "Corruption affects our businesses and it is better to vote for a less corrupt and more business-friendly government, said RD Shah, a diamond merchant.
While these centres saw a steady stream of middle-aged voters and eager young voters, senior citizens also came out to vote in significant numbers, according to the polling officers at these centres. While 92-year-old Shardhaben Shah voted as she wanted to exercise her constitutional right, 78-year-old Himmat Shah voted because he believes politicians 'should improve'.
Need for better safety arrangements for Mumbai women drove Surekha Gandhi,61, and her family in Vile Parle all the way to South Mumbai, where they are registered.
Until 6pm:
38.42% voter turnout at Geeta Gurh, polling station 83
61.16% voter turnout at Mangal Punj, polling station 237
53.46% voter turnout at Gopi Birla Memorial Public School, polling station 253
-SOUTH CENTRAL-
Marathi heartland of Dadar, Parel & Muslim pockets in Mahim
In the 'Marathi Manoos heartland' of Dadar-Parel, …continued »