Those who have heard the songs of the Manganiyars — a tribal community from Rajasthan with a strong musical tradition — would say that theatre director Roysten Abel is once seduced, forever obsessed. In Abel's The Manganiyar Seduction, a 2006 performance, musicians perform in a dramatic set inspired by the red light district of Amsterdam. The play has opened festivals, performed before queens and commoners, travelled the globe and — in a cliched tribute to any genius — been ripped off by other artistes. The theatre director returned to the Manganiyar strongholds this year to create a play titled The Manganiyar Classroom, featuring the youngest members of the community. It will open in Bangalore this summer. Abel will be travelling with his last performance The Kitchen (featuring a giant drum, two huge pots on fire, a relationship story, payasam, and Sufi poet Rumi) to France, Holland, Hong Kong and Australia, till January, so the rest of India will have to wait to catch the Manganiyar children at play. Edited excerpts of an interview:
You've worked with experienced Manganiyar musicians, what made you take up children for theatre?
When I was auditioning for The Manganiyar Seduction, I listened to all the elders and the young people and then, a day later, the children came in. When they started singing, I was blown. I thought, 'Where the hell is this voice coming from?' A few children were a part of the earlier versions of The Manganiyar Seduction but I felt that the dramatic magic was not building up so I took the ruthless decision to take the children out. Ever since, I have wanted to do a performance with them.
How did The Manganiyar Classroom evolve?
It began when the non-profit trust, Bhoomija, from Bangalore approached me for a piece. I took this as an opportunity to work with the Manganiyar children. I felt that these children were so brilliant; when they come out of the wombs of their mothers, they come out singing. The women play the dhol and sing and the child is in between the dhol and the mother, so he grows up in a cocoon of music. What's unfortunate is that most of them leave their music and take up other jobs, and become carpenters or drivers. Most Manganiyars cannot pursue their vocation.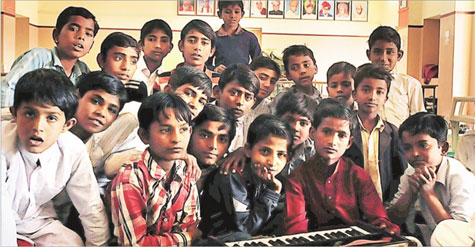 How did the theme of classroom come up?
There was a nationwide drive to the tune of apne baccho ko padhao. It proposed a uniform education pattern, not keeping region or tradition in mind. The result was that teachers who wouldn't have got a job anywhere were recruited, they taught in non-existent classrooms with non-existence infrastructure. As far as the Manganiyars were concerned, most children would drop out and live on their music and many became lumpens. The Manganiyar Classroom takes a poetic look at this kind of education system.
It also comments on the market economy we have in …continued »