Candidate goes missing for 8 hrs, keeps family, cops on toes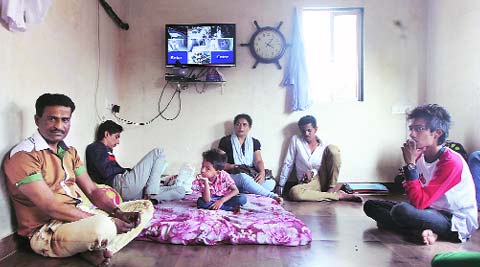 Shahbaj and his family at his home. (IE Photo: Prashant Nadkar)
A  Lok Sabha election candidate from south Mumbai went missing for eight hours from Byculla on Tuesday, prompting the police, his worried wife and party associates to mount a search. He was later found to have gone to his aunt's home in Kurla without informing his wife, to sleep after three hectic days of campaigning.
Even as Shehbaj Rathod (43) of the Jai Maha Bharath Party feasted on rotis and chicken after a much-needed nap and then switched on his cellphone, his harried wife Priya Rathod (38), who heads the party, scoured south Mumbai, fearing the worst. The couple had petitioned the Bombay High Court last year against the Bhendi Bazaar redevelopment project undertaken by the Saifee Burhani Upliftment Trust (SBUT) and have since been fearing for their safety.
The couple live in Bhendi Bazaar with their children.
On Wednesday, Shehbaj looked sheepish, even a little embarrassed. He said he just wanted a little break from campaigning, in spite of being scheduled to lead a roadshow in Grant Road at 4 pm on Tuesday.  Shehbaj's last known location was the office of Vinayak Deshmukh, the Deputy Commissioner of Police (DCP), Zone III, in Bawala Compound in Byculla around 2 pm. "Deshmukh was not in office when I went there, so I spoke to his staff and left. I signed in and out at the office register at 2 pm and 2.05 pm. I had only slept for an hour in the last three days and desperately needed some rest. So I decided to go to my aunt's home in Kurla West," he said.
Once at his aunt's home, Shehbaj switched off his cellphone. "I knew if I went home instead, I would not get any rest," he said.
While Shehbaj dozed off, Priya at first grew irritated, and then very worried thinking his disappearance could have been related to their opposition to the redevelopment project helmed by SBUT.  "He wasn't answering phone and was not to be found at places where we thought he would. We first started at the DCP office, then searhced around Bhendi Bazaar and the Bank of Maharashtra branch at CST where we have an account. But he was nowhere. We then went to Byculla police station to register a complaint," Priya said.
For the police, this was unlike any of the dozens of missing persons' reports on any other day. "This was an election candidate, so his disappearance became a serious matter. We formed a special team to track him down," said Suresh Magdum, senior inspector, Byculla police station.
"His phone location showed he was in Kurla, so a team of officers immediately rushed there," said Magdum.
Kurla should have rung a bell for Priya, but she said she never imagined Shehbaj would go there. "I do not get along with his side of the family. They live in a part …continued »