'Balasaheb's speeches inspired me to join MNS… I should have been here much earlier'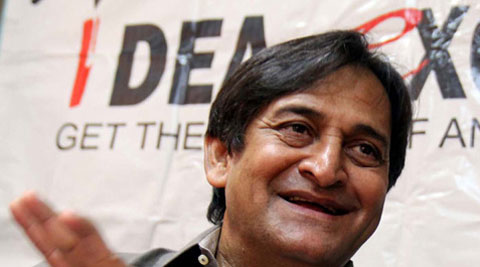 Mahesh Manjrekar.
Santoshee Gulabkali Mishra
Mahesh Manjrekar, actor and film maker, is contesting the Lok Sabha election from Mumbai's North West constituency. He talks on why he joined the Maharashtra Navnirman Sena, his agenda and why he is 'confident' of winning, despite stiff competition from the Sena, Congress and AAP contestants.
What has prompted you to join politics? And why MNS?
When I was young, my father religiously took me to attend rallies of Balasaheb Thackeray. His speeches were inspiring, as he spoke on grassroot issues of citizens. Next, when I was in Bhavan's College, the thoughts of former chief minister Ashok Chavan left a good impression about politics on me. Chavan had asked me to join the Congress, but I refused as my thoughts did not match the party's ideologies.
In fact, I feel I entered politics late, I should have been here much earlier.
Almost a year ago, when I met Raj and expressed my interest in joining politics, he laughed. Later, Raj called me up and asked me to join the party, and contest the polls. Now, I am here to win the election.
How do you plan to improve the conditions in your constituency. If you come to power, what work will be on your priority list?
There are several issues plaguing the constituency. It is not my constituency, it is of the people, and since nothing has been done for them till now, I am here for them. Under the name of SRA (Slum Rehabilitation Authority schemes), people are cheated as they are just given a few sq ft to live and die from suffocation.
What are the issues you plan to address?
North West constituency comprises people from the upper strata of society and also the lower income groups. The first thing on my to-do list is to start a free medical store for the lower income group. The second is to provide education to all. I will form a committee that will apprise me of the issues faced by people.
There are allegations that rather then winning seats, the MNS is more interested in ensuring the defeat of Sena. How do you react to such remarks?
Manjrekar: The Sena has forgotten the issues of common people. There is nothing wrong in defeating them. Why shouldn't they be defeated ?
Your party is contesting against the NDA alliance, but you claim that you will support Narendra Modi as the Prime Minister of the country. Do you think there is a dichotomy in this stand?
BJP has announced Narendra Modi as its Prime Ministerial candidate, and he will win the elections. Raj is supporting Modi as the next PM. The issue of NDA alliance candidates is at the state level.
What are you planning to do regarding toll agitation. Why is the party silent on the issue ?
The issue is neither over for the party, nor for Raj. You will see the development post elections.
Are we also going to see Manjrekar as a part of toll agitation?
At …continued »