Assembly polls: Will Modi factor work for Sena-BJP?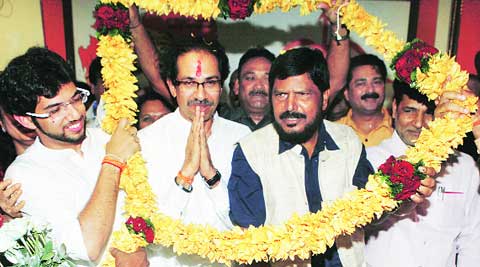 Shiv Sena chief Uddhav Thackeray being felicitated by RPI chief Ramdas Athawale (right) at Sena Bhavan in Dadar on Friday.
Buoyed with the stupendous success in the Lok Sabha elections,  state BJP chief Devendra Fadnavis has already spelt out the mantra for the October 2014 Assembly elections. The catch line is "Saab Ka Saath, Saab Ka Vikas" (We are with all, we want development for all).
Although the BJP knows that the Assembly polls is likely to be "Minus Modi Wave", the underlying theme is to consolidate the "development plank", which can work to exploit public anger and anti-incumbency against the ruling Congress and NCP.
In the 2009 Assembly elections, BJP (47 seats) and Sena (45 seats) together made up for 92 seats out of the total 288 seats. The Congress (82 seats) and NCP (62 seats) were ahead with 144 seats. The remaining 54 seats included smaller parties and Independents. Another factor that needs to be considered is that unlike Modi, who was the credible alternative, the BJP alliance will have to provide a confident face to connect with people in the Assembly polls.
The problems within the Congress and NCP are likely to multiply with both parties questioning the leadership of Chief Minister Prithviraj Chavan, and the NCP is worried about Deputy CM Ajit Pawar's poor image in public. Pawar senior is likely to spend more time to set the house in order as it will be a matter of the party's survival.
State Congress chief Manikrao Thakre said, "There is no ambiguity about the Congress-NCP alliance in the state. We need to take corrective steps through introspection."
The Sena-BJP alliance is also not hurdle free. Not withstanding in-house echoes getting louder for "ekla chalo re" in the Assembly elections, the BJP leadership is unlikely to break the grand alliance that worked to its advantage in the Lok Sabha polls.
Fadnavis added, "We have always exercised caution to indulge in politics of opportunism. The party is committed to the alliance partners, who played a crucial role in the parliament elections. And, we have decided to work together in the Assembly elections."
The BJP is not in a mood to get into confrontation with any of the alliance partners, who also reaped huge political dividends riding the Modi wave.
However, the power tussle within the alliance, both Congress-NCP and Shiv Sena-BJP, cannot be ruled out ahead of the Assembly elections. The NCP's marginal success compared to Congress in the state is likely to alter the chemistry within the ruling combine. The Congress (two seats) and NCP (four seats) will force the organisations to redefine their strength for the 288 Assembly seats in Maharashtra. Similarly, the BJP, which has gained the leading status in Centre and state, is unlikely to bow to the highhandedness of the Sena.
The Sena's pin pricks against Narendra Modi or teasers to …continued »