Around 6,500 names 'illegally deleted' from electoral rolls for LS polls, claims PIL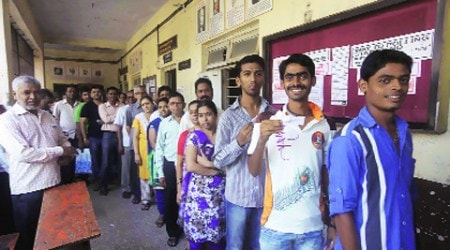 The PIL argued that the right to cast vote was "illegally and arbitrarily" taken away without following due process of law.
A public interest litigation (PIL) filed in the Bombay High Court Wednesday has claimed that around 6,500 names of voters from Mumbai city and suburbs were "illegally deleted" from the electoral rolls during the 2014 Lok Sabha elections though they had not died or shifted homes. Pointing out shortcomings on the part of Election Commission (EC), the PIL claims that a showcause notice was not served to voters in accordance with the EC rules.
The PIL argued that the right to cast vote was "illegally and arbitrarily" taken away without following due process of law.  A division bench of Chief Justice Mohit Shah and M S Sanklecha, before whom the PIL was mentioned, asked the petitioners' lawyers Archit Jayakar and Ambika Hiranandani to issue a notice to the EC and decided to hear it on May 6.
The petitioners – city-based NGOs Action for Good Governance and Networking In India (AGNI) and Birthright – said in their petition they had received complaints from 6,500 voters, but there are 2,10,123 names on the deleted voters' list on EC's website. The two NGOs represented by former state Chief Secretary D M Sukthankar and Jyakar himself, claimed in the PIL that a few days prior to the polling date, around 500 voters from Marine Drive had also noticed they were on the list of deleted voters.
Despite their names not reflecting on the electoral roll, the residents were allowed to vote after EC officials acted on an email sent by the residents on April 22 and conducted an inquiry, said the PIL. The PIL also listed out different cases where voters were "denied the right to vote". Citing one of such example, the PIL said that Worli citizen Sunil Shelar had found his, and names of all members of his family, missing from the voters' list. "He was informed that a notice to this effect was published in the Dainik Sagar / Hamara Mahanagar newspapers and because he did not object to this and/or respond to the notice, his name and the names of his family members were struck off," read the PIL.
"At the outset, the petitioners submit that mere publishing of a notice in the newspaper, in substitution for a showcause notice personally to the citizen concerned, is not permitted under the Rules," the PIL argued.  The petitioners argued that a mere admission of their mistake by the EC cannot compensate for the fact that the voters' names were wrongly deleted. "Neither can it absolve the EC and state Chief Electoral Officer (CEO) of the onus and responsibility for the wrong done," the PIL added.
The petitioners said that all names listed in the PIL are those who have voted for the Lok Sabha …continued »