Mumbai |
Published: March 27, 2014 5:55:27 am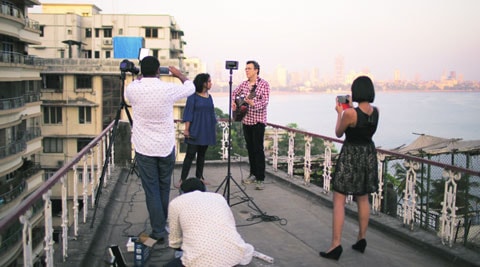 Any discussion about renting real estate in Mumbai for a 30-something usually revolves around the size, the price and the area's cool factor. In case of Kavi Bhansali, however, the focus isn't so much on those aspects; the entrepreneur is instead obsessed with balconies. The co-owner of the production house, Oijo, who got the online show BalconyTV to Delhi a couple of years ago, is ready to open a chapter in Mumbai and has been looking for the perfect venue.
The show, which was first introduced in Dublin in 2006 by three local musicians, has over the past eight years spread to 30 cities and amassed over 45 million views. Featuring up and coming bands, the format is simple — all it needs is a camera, a basic sound set-up, a host who introduces the band, and the viewer, who enjoys the music with a great view for company. And in that lies its allure.
While hosts in different cities have experimented with this format, the team from Oijo — Pragya Tiwari, Rishi Majumder and Bhansali — like to keep it simple. "We have shortlisted balconies in Mumbai but we are still looking for more. Essentially, the view needs to give a sense of the city, ambient sounds must be minimal, and logistical aspects such as space, accessible plug points and acoustics need to be in order." Over the past two years, Bhansali and his team have recorded about a 100 videos in Delhi with both Indian and international acts, and these have cut across genres.
The hilarious Mumbai teaser has an impressive line-up of artistes, most of whom have been shot on a friend's balcony in Juhu, with the beach for backdrop. The teaser, which is edited like a blooper reel, showcases names such as Susheela Raman, Sky Rabbit, Colour Compound, Warren Mendonsa, and Ankur Tewari. Rohan Majumdar, vocalist of Colour Compound, believes the show is a great way to stumble across new music. "BalconyTV becomes a place for people to discover new bands. I have started following a couple of international bands whom I would never have discovered on my own. It's an indie online music channel and I love its raw format," he says.
BalconyTV will soon make its way to your television sets. MTV Indies, the new channel dedicated to the independent arts, will air episodes of the show. Other than YouTube and now MTV, the show is also available on Spotify, iTunes and Vimeo. But in an age of million view videos, BalconyTV gets only five to ten thousand views a video on YouTube. Bhansali, however, is unfazed. He says, "For me, it is about the opportunity we are creating for the bands. Because of the show's international format, there are festival organisers who watch BalconyTV to scout for new acts. The brand helps the bands."
They also want to take the show to Kolkata and then to a city in the south. In Delhi, many of the featured acts had a Hindustani classical music tinge to it. With Mumbai, they say:"We want to feature acts that are pushing boundaries, whether they are blending genres or doing something different in their own space. Also, the format of the show throws limitations on the musicians we feature. For example, if we feature a metal act, it might have to be in a stripped down format." Now that sounds like a plan.
kevin.lobo@expressindia.com
For all the latest Mumbai News, download Indian Express App