Third gender taboo continues, of 235 only one turns up to vote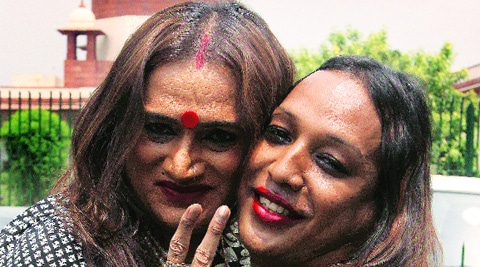 Right to have family bymarrying each other, adopt children.
Forced to live under the tag of 'he' or 'she' and facing humiliation for being what they are, the third gender taboo continued in Punjab in Lok Sabha polls 2014. For the first time Election Commission registered third gender voters under 'Others' category and 235 such voters got themselves registered. But despite a massive awareness drive only one of the 235 turned up to vote.
This despite the fact that Supreme Court, in a recent judgment recognised transgenders (hijras) or medically operated transgender as 'third gender' and gave them special status. One star who shone on polling day in Punjab was a voter from Ludhiana East constituency who requested polling officials to write his name under 'Others' category as "he was from LGBT community".
How deep-rooted the social stigma is can be gauged from the fact that he "asked polling officials to promise not to reveal his identity to anyone, especially media". Talking to The Indian Express, Sumit Jarangal, assistant returning officer, Ludhiana East said, "We appreciated that he came to vote, but were sad at his request to not reveal his identity. He was almost in tears."
Rajat Aggarwal, Deputy Commissioner-cum-returning officer, Ludhiana, said, "This time Election Commission gave third genders a chance to come out and vote." Chief Electoral Officer Punjab, V K Singh, said, "We issued guidelines to all DCs to reach out to them through awareness programmes."